So the LA County Board of supervisors wants to end the taco culture in Los Angeles and for the first time ever Mayor Villaraigosa can't find anyone to take a picture with.
We already know the
Los Angeles city government is anti-taco
. First it was the LA city Council that passed a law that required taco trucks to move every half hour or face a $60 fine. It was a small but revealing gesture and the message was clear,the government was coming after the taco. Now the
LA county board of supervisors
has double dipped into the proverbial guacamole sauce with a ridiculous law that requires taco trucks to move every hour or face a $1000 fine and possibly jail time. What's next? Waterboarding taco reporters to get them to reveal locations of their favorite loncheras?
"But Bandini, a taco truck parks in front of my restaurant and is ruining my business" This is a legitimate concern for some restaurant owners . Noone thinks it's right for a taco truck to park directly in front of a restaurant. But as usual LA city officials lack any creative solutions to the problem. Maybe implementing a law where a taco truck cannot park within a certain radius of a brick and mortar restaurant would please everyone.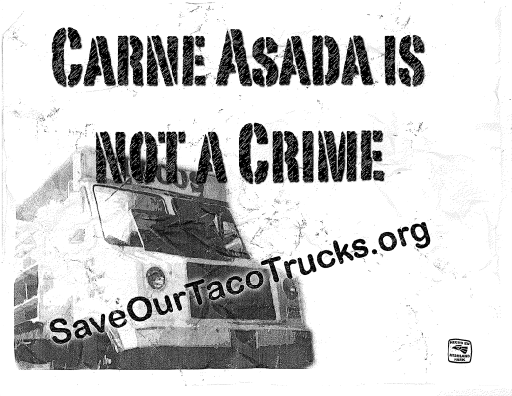 Saveourtacotrucks.org
have started a save the taco trucks petition. Sign the petition! take to the streets in a peaceful manner !Support the taco culture in LA!