In the second installment of better know a taquero (yes, I stole this concept from the Colbert Report's better know a district) I sat down(virtually) with taquero Jorge Campos, owner of Taqueria Los Barrigones in South Gate.Mr Campos started Taqueria Los Barrigones 5 months ago after moving from Texas to Los Angeles.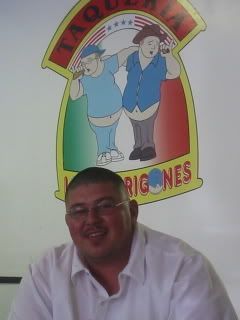 So you come from Texas. Is there a difference between a Texas taco and an LA taco? I hear breakfast tacos are big in texas.
Honestly I don't think there's such a thing. Texas doesn't have authentic food. I kept it very traditional, just what you would find if you were walking the streets of Mexico.
How long have you been in business? Was there a moment when you thought "yes we've made it"?
I've been in the taco business for about 4 years now. When I opened the 1st place in Texas, it was tough people were hesitant to try them. I remember the 1st 2 weeks we sold like an average of 50 tacos a night. Pretty tough. Then one night it jumped to like 150, and from that point on there was no stopping us. So in that sense yes I felt like I made it in Texas. I've been here in California for about 5 months now and at times we get these spurts of people but I think I can do alot better. It's just tough, people are hesitant to try the tacos since theres so many mediocre places out here.
What made you decide to get into the taco business?
I've been around the food industry all my life. I knew I was going to open up some type of restaurant. Being that Tacos are a mexican tradition I wanted to have something that keeps my nationality going. So tacos it is. Now I have one of the best tacos people can eat.
To me lettuce on a soft taco is sacrilegious. how do you feel about lettuce on a taco?
Lettuce on a soft taco. you go to taco bell, el pollo loco. These aren't authentic mexican tacos.
You're open real late on the weekends(3am) have you been able to pull in the late night party crowds?
We're starting to draw some people in at night. It's pretty tough here, theres so many officers on the streets here at night that people avoid this area. Back in the day this Tweedy mile was a cruising spot, well they've gone away from that. So people are just finding out about us.
what is the taco scene like in South Gate? Any plans for expansion?
Honestly we're the best South Gate has to offer. Will be expanding in the near future. We have a location in LA by USC, and another in Paramount. Hopefully those will open this year. its tough. im a sole prop. and dont get any loans so it takes me a while.
What do you think of some of the big names in the taco business, chains like King Taco and Don Chente?
Well interesting. The honest truth King Taco used to be good, about 15 years ago. Now its just a name people recognize. They have a hot sauce thats it. I must say their pastor is pretty tasty at times, or should I say depending on the location. But obviously King Taco has done something right they've been able to establish one of they hardest businesses there is. Don Chente I can honestly say I know very little of. I know its the fastest growing chain there is today. I guess its good to use a Mexican Icon's name for your business. Vicente Fernandez is a big big Mexican name known all over the world. Why not use his name and an image that almost resembles him. Tasted their food once not too impressed.
On that note I would love to have a taco cookout where the best of the best go up against each other. I'm willing to put my tacos up for a taste test against anyone. They are that good.
That's a great idea. I could be the MC
What region of Mexico do your flavors come from?
It's a lil mixture of Mexico. Yellow corn tortillas, nice juicy meets, grilled onion and lemon. its just a Mexican Taco. But i followed the traditions from Chihuahua, where I'm from.
Thanks for the interview. I look forward to tasteing your tacos and I'm sure my readers do as well.
I hope I was able to give you a little info to help you out. Like I said my tacos are different, from style, texture ,and taste. I use only the best and freshest ingredients, all my meats are fresh and cooked on a daily basis, nothing is frozen.
Check out Taqueria Los Barrigones and tell them the great taco hunt sent you!
Taqueria Los Barrigones 4070 tweedy blvd. 323-569-8200
Mon-Thurs 9am - 11pm
Fri-Sat 9am - 3am
Sun 10am - 11pm.