Tacos are truly the sum of their parts. You have the tortillas, meat, and salsa and they must each pull their own weight for the taco to be complete.
The tortillas are the least important. While they are the foundation of a great taco, a good taco can certainly get by on average tortillas.
You may have heard me when talking about homemade tortillas say that the tortillas made the taco.That's only true once the meats and salsa have held up their end of the bargain. Even the greatest tortillas can't save a taco when the meat is of poor quality.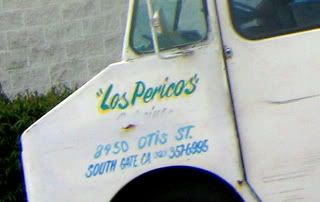 It is the meat that really makes or breaks a taco because while a great salsa or great tortillas can save a taco when the meat is just average if the meat is too fatty when it is not intended to be it's a deal breaker.
al pastor and asada
And that was the case at Los Pericos. The salsa was really good , the meat was inedible. The asada was dry with excess flab and the pastor equally fatty and unappetizing. The salsa was so good the meat could have had acceptable flaws but when you get a mouthful of fat that sticks to your teeth it's game over.
In fairness to Los Pericos they advertise themselves as a cemita poblana truck, not a taco truck. It's unlikely they save the best meat for the sandwiches and the scraps for the tacos but on this day it sure seemed like it.

Los Pericos, Cotner Ave and Pico Blvd, West LA(next to Smart & Final)Tacos $1
Technorati Tags: tacos, taco trucks, carne asada, al pastor, Los Angeles