It's South Central Los Angeles and I'm on the taco hunt. I get a vague description via email with vague coordinates. All hell could break loose at any moment.
I'm looking for the neon lights, the flashing taco signs but the streets look cold and dark and when I see a pitbull chase a car down Florence Ave I give up and get back on the 110. On the radio it's Tchaikovsky's 1812 Overture and I feel like Napoleon's La Grande Armée retreating out of Russia. The cannons fire and my stomach rumbles.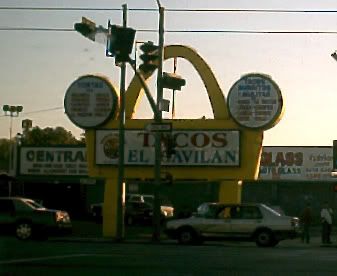 Back on the surface streets I turn on to Central Ave and see a familiar sign,
Tacos El Gavilan
. My last visit to Tacos El Gavilan was at the beginning of my taco journey. Back then I thought I could get by with some bullshit camera my friend Kiwi Simmons gave me. It was such a piece of shit I think I just tossed it out the window. But Kiwi thinks it's the camera I currently use and credits herself with helping to jump start my taco blogging. I don't have it in me to tell her that her camera is probably at the bottom of some freeway underpass.
El Gavilan was happening this night. A full parking lot and two lines two order as well as a line at the salsa "bar".
"Three of your best tacos!" I said to the girl at the window.
"What kind you want?"
"Carnitas, al pastor, asada..one of each..I'm a taco reporter, a taco critic"
"Yeah ok whateva,anything to drink?"
"Your finest tamarindo!"
By this time she was rolling her eyes at me and said something to a taquero.I paid and was handed my ticket. Order #92.
When an order is ready it is announced over a speaker system by the taquero that has prepared your order.The first time the order goes over the speaker it's usually in spanish and if noone answers then it goes over in english. Sometimes people are just oblivious and they have kids with them that are distracting or they are just being stupid and they aren't paying attention. If noone has claimed the order it goes over in spanish and english again and then just in english until eventually someone picks up their order or the taquero gives up and moves on to preparing another order. That process can take a few minutes though and it's valuable time for the taquero because the longer he has to wait for the unclaimed order the longer it takes him to getting to the next order.
Basically if you don't pay attention and pick up your order in a timely fashion you are fucking it up for the next guy.
I was prepared though. When noventa y dos went over the speaker I would get up for my order . I wouldn't wait for the english translation. I would get up to show the taquero that I understood and that I wasn't some desperate gabacho out for some taco kicks. I was a serious taco reporter. What kind of swine would report on tacos but not understand how to count to one hundred in spanish ?
Something odd happened though. When my order was ready the taquero just looked at me and motioned the plate to me and didn't announce my order number over the speaker system! hah! what is this? I was caught off guard but then I realized that she probably told him that I was a taco reporter.
There is a good selection of salsas at el gavilan. I didn't take photos of these tins because,well for one ,there's a line where you load up your tacos and if you take too long you disrupt the flow and also noone wants to see someone take pictures of all the tins. They will probably think you work with the health department or something worse, that you're part of the media.
I took my tacos to a table on the back side of the restaurant but everytime I turned around there was the same guy leaning up against a pole looking at me. I didn't say anything to him though cuz he may have just been one of those guys that likes to lean up against poles...but I wanted to say "hey...did she tell you I'm a taco reporter too?" I didn't say anything though.
The tortillas at El Gavilan are done very well. They glisten. And the meats surprised me. The al pastor has a cinnamon flavor..very different and very good. The asada and carnitas are rustic and lean.Oh and the salsa roja has that firey kick..better have yourself a cold beverage handy.
Walking back to my car I heard it " numero ciento y uno, 101" "numero ciento y uno " number 101! your order ready" "numero ciento y uno, ciento y uno 101! 101! 101! " and the longer it went on I could hear in the taquero's voice the fatigue, desperation, and the utter disgust for the son of a bitch that wouldn't claim his order because he knew as did I that somewhere in the crowd there was some degenerate with that #101 ticket.
TACOS EL GAVILAN 1900 S Central Ave Los Angeles. Tacos #1