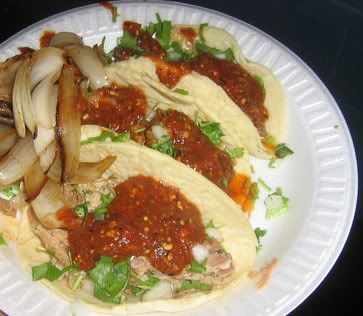 Tacos La Fonda trifecta - carnitas, asada, al pastor
Well my friends another year is behind us. It's almost 2007. I can't believe it. Where have the years gone? What have I done with my life? Well enough of the self pity it's time for the best of 06. I've just asked myself and the votes are in! it's a sweep by tacos el korita! Best taco truck! , best pastor!, best carnitas!, best salsa roja! Best carne asada? Almost! but that award goes to La Taquiza.
Holy crap you say.."Bandini how much does tacos El Korita pay you?...are you on the take?" No! I'm not on the take and I'm insulted by the accusation. I just love this taco truck! I'm not sure if it's the tortillas hechas a mano or the spicy king taco inspired salsas (roja and verde) or the the crunchy seasoned carnitas or the way the grumpy taquero treats me. There is just something about Tacos El Korita that brings me back to the taco mecca that is east olympic blvd where the 710 and 5 cross in east LA.
so without further ado..the second annual taco awards.(can someone come up with a good name for these?)
Best Taco Truck
-
Tacos El Korita
(2005 winner
El Matador
)
in a perfect world El Korita and El Matador park next to each other for the great taco face-off.
Best Taqueria
Carnitas Michoacan
(2005 winner
King Taco
)
the dark salsa is addicting..so is the charred asada and al pastor. I havn't even tried the carnitas yet.This was a close call with La Taquiza but the salsa was the deciding factor.
Best Carne Asada
La Taquiza
(2005 winner
El Parian)
char grilled flank steak with the taste of the grill in every bite on top of tortillas hechas a mano
Best Al Pastor
-
Tacos El Korita
(2005 winner
Outlaw taco cart
)
cut from the vertical spit, charred at the tips, moist in the middle and delicious seasoning.
Best Carnitas
-
Tacos El Korita
(2005 winner
Casa Diaz
)
crunchy seasoned carnitas topped with an amazing salsa verde
Best Cabeza
-
Tacos Chatos
very soft beef(cow cheek)with a tasty avocado sauce. If you've held out on trying cabeza this is the place to try.
Best Suadero
-
Tacos Jeesy's
the soft tender strips of rib meat melt on your tongue and will change the way you view suadero
Best Salsa Roja
-
Tacos El Korita
brings the heat without overwhelming the rest of the taco. A spicy chile mixture that reminds one of King Taco's famous salsa roja
Best Salsa Verde
=
Garcia Bros
serrano pepper mixture with a hint of avocado.This spicy salsa will burn your tonque if you aren't careful. Have a cold beverage handy.
Best Tortillas
-
Tacos La Fonda
Tough call, could have gone La Taquiza here. Both make excellent tortillas hechas a mano.
Best Valley Taco Truck
-
Tacos La Fonda
excellent homemade tortillas, the salsa is smokey and spicy and the meats are skillfully prepared
Best Westside Taco Truck
-
Rudy's Tacos
when these are on they are on. Pastor is saucy and oniony, asada finely chopped. Avoid getting them to go since they don't take well to being stacked in tin foil.
Best Westside Taqueria
-
El Super Taco
(2005 winner
Tacos Por Favor
)
El Super Taco is quickly becoming my favorite local. I still need to try the ensenada style fish tacos
Best condiment
- crisp onions from
Tacos La Fonda
(2005 winner marinated carrots
Taqueria Estilo Mexico
)
yeah I'm a TLF fan boy. Dip these little bad boys in the salsa roja and chug down a bottle of jarritos.
Thanks for all your recommendations and for those I havn't gotten to yet 2007 looks to be another good taco year. I've added a new poll for taco trucks. I've tried to include some from each neighborhood and some of the most recommended trucks. The winner at the end of 2007 will win the Peoples Choice Award which is really the most important award anyway. Because who am I? I'm just one man, your humble taco correspondent and unofficial taco laureate of Los Angeles.
Happy New Year, drive safely and don't forget to tip your local taco truck.