Thanks to fellow taco hound Ollie I was informed about a taco wagon off the 110 at slauson ave."Just east of the 110 fwy" Ollie says.
So I pulled into the parking lot right off the 110 at Slauson to observe people kicking back on their car hoods eating tacos and tortas. There were a few jack asses that had no idea how to comport themselves public wise that were bumping their hideous music but they were outnumbered by upstanding taco citizens.
"Two al pastor spits going on at once, and separate lines just for that." Ollie says.
Ollie may have had a few too many adult beverages because there was only 1 al pastor spit. Which is all you really need anyway but two would have been something. Maybe they need two on the weekends? for the weekday it was pretty crowded.
"one guy doing traffic control in the parking lot, and 2 armed guards patrolling the parking lot." says Ollie.
Holy shit man...."freeze pendejo! you can't park there!" hah!
well no traffic control or armed guards this night but maybe on the weekends.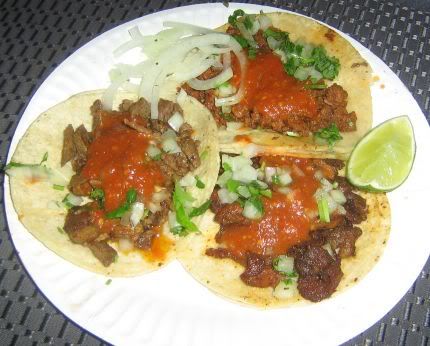 So I ordered al pastor, asada and chorizo. Everytime I order chorizo I get my hopes up that it will be a solid meaty substance like
tacos por favor
but I'm most often disapointed with the standard greasy crumbled meat. That's how I felt about this chorizo..bleh.
The al pastor turned that frown upside down though. Excellent sweet pork with a tasty salsa roja made for a delicious taco. The asada was good as well but not great. Not as great as the al pastor which had me going back for more.
all kidding aside Ollie is as credible as it gets for taco intelligence.
Tacos El Korita
is one of his finds. And this is a great taco stop right off the 110.
Ollie, you're two for two.
110 freeway Slauson exit. Nights only. Tacos $1