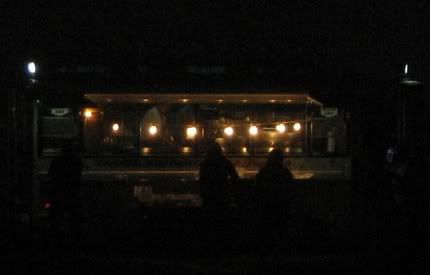 On the taco beat, in the ghetto. It's midnight and the street lights are out, the lightbulbs along the El Tapatio taco wagon the only refuge from the darkness. There is an eerie feeling in the air. This isn't taco tuesday after all.
I order asada and al pastor and dress my tacos with onions, cilantro and salsa from containers on a table next to the wagon.
The beef -quite fatty but very soft. The al pastor, excellent, charred at the edges, soft in the middle. The salsa roja a little mild but goes well with the pork. I chomp down a jalapeno for some heat and chase it with an ice cold coke and order another taco al pastor.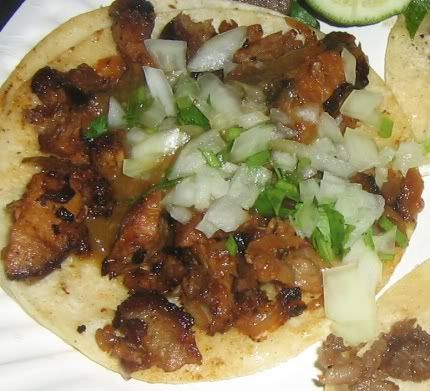 And while waiting for that taco I noticed a row of thugs marching towards me and the prospects of some irrational youth violence grew wider the closer they got.
I'd have to talk my way out of this one I thought. I'll tell them the truth, that I am the taco bandini, a taco explorer, a reporter in fact, an innocent bystander and promoter of taco culture. That I have a great respect for thuggery! An admirer of this confrontation even!"excellent tactics youthful deviants!" I'll say. "At first I was frightened by these developments but now I am in awe of your tactics and I am more than willing to cooperate." Why do you think I came here anyway? I expected this thugs,outsmarting you is part of my training to become a taco conquistador."
And thats when he ran, the dude that was behind me. And they chased him, all five of them. They weren't coming for me afterall. But they didn't catch him. They were too slow and fat and he was too quick. And when they came back they ordered tacos and burritos and laughed and belched and I thought oh they'll never catch him.

Tacos El Tapatio- Redondo Ave and Washington Blvd, West Adams. tacos $1