La Playita aka El 7 Mares is the destination for mariscos and fish tacos in Lincoln Heights. The fish tacos come with crispy battered pieces of cod,cabbage and a light cream sauce.
fish taco
They also make an admirable taco al pastor with thin strips of achiote stained pork, onions, and salsa roja.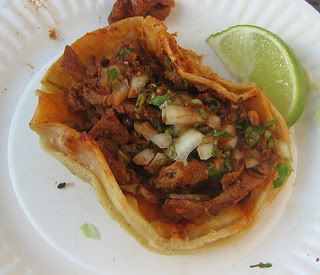 taco al pastor.don't forget the shot of lime
But most importantly La Playita is known for their ceviche, shrimp cocktail and seafood tostadas. Not to mention the signature Caldo 7 Mares. A spicy soup with camarones, pulpo, y pescado.
Much like the
El 7 Mares in Silverlake
the Lincoln Heights location also has a resteraunt as well as a taco hut that are about 50 yards from each other. I went to the hut.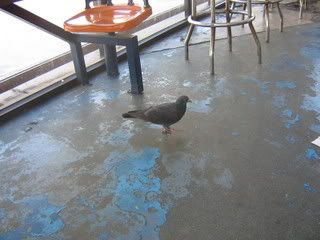 Inside the hut a pigeon came towards me. I recognized him as a dissident from my days as grand chancellor of
tacos el unico
.I offered him some tortilla but he was hesitant, perhaps remembering my tyranny. Eventually he started to peck at the tortilla and I used the opportunity to make my escape to the outside tables.
Once outside I noticed they had a drive through. El 7 Mares is covering all the bases with the sit down restaurant, taco hut, and drive through. The drive through is pretty ghetto though. The space to pull up to the window isn't that wide to begin with and on this day there was an extra obstacle because of some boxes of produce that had just been delivered and stacked too close to the entrance.
I watched as a car made several attempts to reverse and go forward to get into the driveway while another car pulling into the parking lot honked repeatedly. Finally getting tired of the honking coming from the other car a middle aged chola who looked like she never saw a fight or a plate of tacos that she didn't want to tangle with got out of her car. Her hair was teased up with enough aqua net to gass a beehive and her big belly stretched a wife beater tank top over her beltline. She looked dangerous as hell.
"You want some of this puto?" she yelled back at the car who by this time was already frantically trying to reverse out of the parking lot.

La Playita, El 7 Mares is at 2200 N. Broadway
Lincoln Heights 90031.fish and shrimp tacos $2, meat tacos $1