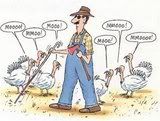 Back in the day Thanksgiving was about giving thanks to God for the harvest season. Well it's 2006 and hardly any geeza's plant their own harvest now. So instead people use the holiday as an excuse to eat massive amounts of turkey and pumpkin pie.
But here at the GTH we give thanks to the many taco truck operators in LA that provide the taco culture to our great city.(This will one day be it's own holiday but for now we coop thanksgiving)
and if you have left over turkey? make hardshell turkey tacos!
Fry up some corn tortillas, let the turkey bath in the oil a little and crisp up. Then add some tomatoes, lettuce, cheese and some tapatio! Maybe even some sour cream!
When it comes to hardshell tacos I'm not nearly the taco dictator I am when it comes to the real stuff.Lettuce on a hardshell taco is good!
that doesn't mean you're not still on notice lettuce! I don't want to see you on my street taco!
Happy thanksgiving everyone.