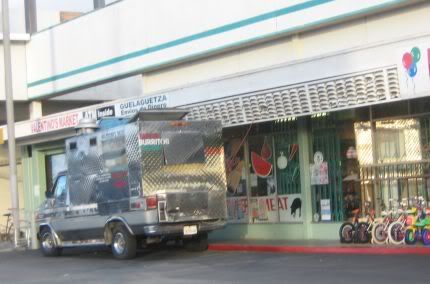 In theory any vehicle can be transformed into a taco wagon. Take this van for example. Somone was really desperate to get into the taco game to convert this hoopty into a mobile taco enterprise.
Now for a truck to be legit it must have a workable sink with cold and hot water as well as potable water tanks.I doubt this has either, quite the bandito. But still, we should salute all those who attempt to turn their vehicles into taco wagons no matter how bootleg they may end up looking.
This van parks in front of a small market by the same name which is in the same parking lot as Smart & Final on Lincoln Blvd.The good thing is the market sells lots of mexican produce, has a carniceria and sells bottles of mexican coke. The bad news is every poser thinks it's cool to cruise through the parking lot bumping his horrendous music at maximum decibels.
I ordered al pastor and carne asada. Each taco came on a single corn tortilla. Neither taco was particularly good but I just didn't expect them to be. The asada was dry and flavorless, the al pastor consisted of overcooked bits of flavorless pork -no caramelized onions or any resemblance of real al pastor. The salsa roja was too mild and the avocado sauce too subtle to make up for the lack of flavor in the meat.
But taco journalism isn't always about finding the best tacos. It's about reporting on the taco scene, the good, the bad ,and the ugly.

Valentino's is at 604 Lincoln Blvd, Venice . tacos $1