The first thing you notice at Tacos El Unico is the bulletproof glass seperating you from the cashier and the kitchen.The second thing is the armed security guard next to the salsa bar.
The University of Southern California is down the street but you're more likely to find a travelling band of winos than you are to run into any college students at this taqueria.
I ordered carne asada and al pastor and a tamarindo. The agua fresca machine was on the outside of the glass which meant you could refill your tamarindo as often as you like. I did an experiment to see if because of the barricade I would become greedy. I did. I drank down my tamarindo right away and refilled it even though I would normally not do so and i took 5 salsa rojas! hah!
The taquero saw me become greedy with the salsa. I wanted to say to him "from the looks of this barricade I see that me taking five salsas is the least of your worries" But I saw his grin when I took the extra salsas "do you think this barricade is up here to protect me ? no! it's to protect you from me...I am a prized taquero...that is why we have a security guard and this glass.It is to protect me from an adoring public.Take all the extra salsas and tamarindos you want taco bandini..it is a small price to pay for my safety."
I had the choice of eating my tacos inside with winos or outside with the birds. I chose the birds.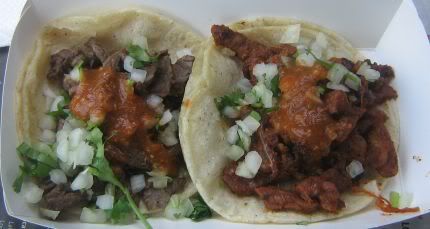 As for the tacos, the carne asada was surprisngly good, very lime fused and soft. The al pastor a little dry but passable. Both tacos pushed over the top by the excellent spicy salsa roja.
The birds were pesky though. I threw some corn tortilla to each bird and then another bird showed up. Pretty soon I had about 10 birds around me. I didn't want to lose them so I kept feeding them bits of tortilla.Pretty soon I had 20 birds, then 30 birds, then so many birds I lost count.
But I fell in love with the birds, I needed them and they needed me too. They quickly annointed me "bird grand chancellor of tacos el unico". It was a unanimous vote except for one dissenting vote to which I quickly designated him an enemy combatent to the bandini throne and he was denied all tortilla rations.
I was such a popular leader that other birds from other provinces came to honor me. I was a man of the birds and it was a triumphant time. My popularity was at an all time high and my birds chirped with nationalistic pride. But it was all a fraud ,my government was built on shaky ground and I had run low on chip rations.
My electorate became unruly, they demanded too much of the Grand Chancellor..they fought over the corn chips, there were whispers of a revolt, that the Grand Chancelor was running out of tortilla rations.
It soon became a reality that I could not feed all my birds,that they would overthrow me. I became tyranical, feeding my favorite and most loyal birds while shunning the rest of my population. But I was only buying time. I had to use extreme measures and extreme measures I did.
With my extra cups of salsa roja and the remaining chips I began feeding my birds corn chips dipped in the spicy salsa . It was a frantic scene as one by one the bird populaton lined up for their corn chip ration and one by one they flew away in horror and anguish.
Before I knew it all my birds were gone and my kingdom had fallen. The grand experiment had ended.
my birds had flown away,betrayed and unforgiving.
(and with a slight case of heartburn)

2524 S Vermont Ave
Los Angeles, CA 90007
tacos $1.25