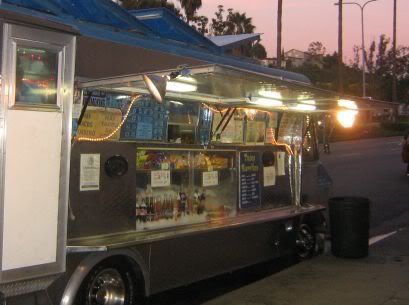 It was just after 6pm when I headed east out of the maddening streets of downtown LA into the belly of East Los Angeles. With the remaining sunlight smeared across the western sky, and the traffic jam in my rear view mirror, my stomach rumbled in anticipation of the upcoming taco feast.
I barrelled through the LA basin back to the taco town that has yet to let me down- El Sereno. El Sereno, the land of a thousand tacos, where only the finest taqueros set up their taco enterprise. The taco dictators would never dream of building a Baja Fresh or Chipotle in El Sereno.It would crumble under it's own hubris. Not accepted it would be laughed out of the city, forever scorned.
I knew I was going to have good tacos when I pulled up to El Ranchito.A lousy taco truck can't last in this town. But I wasn't sure what to order. That's until a nice gordita in front of me ordered 4 carnitas tacos to go.One rule when taco hunting- trust the locals.
"Well,you like the carnitas eh" I say.
"Oh yes hehehe!" "with the hot sauce!"
"I better listen to you then, you are the expert"
"hahaha yes!"
I make eye contact with the taquero ," un taco carnitas y un al pastor, con todo por favor."
"don't forget the hot sauce! give him the hot sauce!" my gordita friend squeals.
"si taquero...the hottest you have, I want to cry while I eat your tacos"
My tacos came with onions ,cilantro and a firey red salsa roja. The roja was king taco-ish except not as thick. The roja was spicy but It didn't overwhelm me. But maybe after all my taco eating my tongue has become immune to the hot stuff. But the carnitas was outstanding - the soft delicate pork was not your standard shredded carnitas. It was so juicy, had so much flavor. The best carnitas I've had so far? perhaps. The al pastor,strikelingly similiar to the shredded saucy pork found at La Estrella was just as pleasing. But the carnitas wins the heart.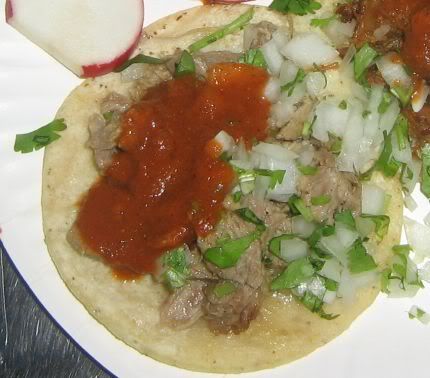 carnitas!!
In ode to the taquero I made a gesture to my lips pronouncing my love for his tacos and ordered two more de carnitas. This time I asked for a jalapeno,a subtle way of telling the taquero that his salsa did not intimidate this gabacho.
He smiled in acknowledgement and placed a juicy plump jalapeno on top of my carnitas tacos.

for carnitas
El Ranchito Huntingon Dr, El Sereno. tacos $1