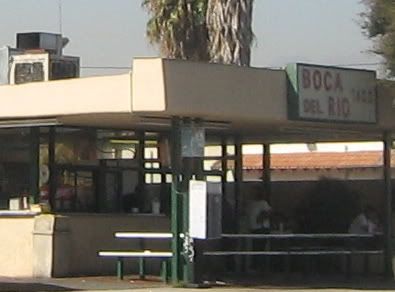 Boca Del Rio, not Del Boca Vista. Del Boca vista was a retirement community in Florida where Jerry's parents lived in the sitcom Seinfield.
I don't know why I kept refering to this place as Del Boca Vista but I had been. I made my friend Gloria tag along with me on this long journey out of Los Angeles into the San Gabriel Valley and the whole time I told her I was taking her to a restaurant called Del Boca Vista.
But as we got to the address it was Boca Del Rio. "this is the restaurant pendejo!? we came all the way for this?" she said.
Point taken. I promised dinner at a restaurant and here we were at a run down taco shack in La Puente that looked like it hadn't been remodeled since the 80's.
The City's name "La Puente" means the bridge in old Spanish and refers to an early bridge built across the San Jose Creek by members of the Portola-Serra expedition in 1769, as they surveyed the region for Spain. (I used the google to cut and paste that from the
internets
)
The tacos at boca del rio are loaded.Too loaded actually. Two corn tortillas packed with meat, guacamole, sour cream, jack cheese, and a squirt of salsa roja.I ordered the trifecta, carne asada, carnitas and al pastor. Gloria had a carne asada burrito.
I'm partial to the simple authentic street taco(meat, onions, cilantro, salsa) so it takes alot for a non-traditional taco to win me over. But I like when a taco shack adds it's unique take on the taco and Boca del rio succeeds in doing that.
But I couldn't eat this kind of taco all the time. They are just too heavy. The sour cream, guacamole and cheese dominates the taco. There were bites where all i got was cheese, cream and guacamole and I had to make use of the fork because structurally the taco didn't hold up.
Overall these were good but Gloria's burrito made me jealous. I could smell the fresh refried beans and the jack cheese melted together, the meat bursting out and the sour cream and salsa dripping down the side of the flour tortilla.
She enjoyed it as well and I was off the hook.
"I'm not mad anymore taco boy, this is gooood"
Boca Del Rio
1163 N Hacienda Blvd
La Puente, CA 91744
tacos $1.60