photo courtesy of Joshinthe818
The road to taco bliss is paved with good intentions. I opened up my big mouth and declared tacos zorro the king of the valley. This contention was challenged by someone who goes by the name of "the taco duder". I recieved the cryptic note via email " car wash - vineland and vanowen- tacos la fonda for the best tacos in the valley, not tacos zorro"
So I took up the challenge and rolled into east valley searching for the famed tacos la fonda.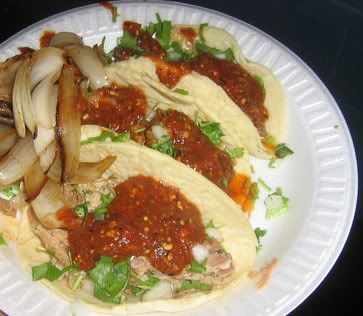 When I got to the taco wagon a line was formed with a sweet senorita standing outside the wagon with a pen and pad taking orders. I ordered the trifecta- carnitas, asada, al pastor and a lime jarritos. The cooks chopped meats and flipped tortillas as the orders kept coming. It wasn't too long before my plate of tacos were ready and to my delight each taco came with a single homemade corn tortilla.
Quite a few salsas to choose from with a salsa verde, salsa roja, pico de gallo, and even sour cream. I opted for the salsa roja which looked like it could bring the heat.
The meats were top notch. The carnitas soft and seasoned had the right amount of porkyness and the al pastor while not from a rotating spit was soft and peppered with a sweet and tasty glaze. The carne asada was chopped fine with a strong dry rub of tasty seasonings and lots of juicyness. But it's the salsa roja that takes these tacos to such great heights. The smokeyness, the spicyness, the bold flavors and the juices from the meats that swim together with the salsa to make such a flavoful broth for the tortillas hechas a mano to soak up.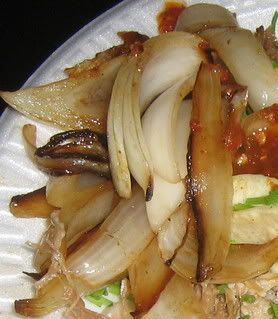 The crisp grilled onions were delicious and a testament to the cooks attention to detail. When that much attention is given to the minor details you know alot of thought goes into each part of the taco.
So the taco duder got me. I admit it...these tacos are the best I've had in the valley so far and when considering the city as a whole I'm not sure there's a better taco out there. These tacos definitely belong in the discussion when it comes to the best tacos in LA.

tacos la fonda is at Vineland and Vanowen, San Fernando Valley
tacos $1.25
Rate Tacos La Fonda