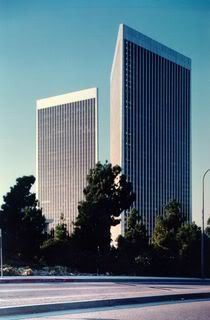 I get the question now and then.."where can I get a decent street taco near Century City?" On the surface it sounds like a totally ridiculous request. But I wanted to find out how ridiculous it was and after getting some taco intelligence from a local informant I set out to sample the street taco fare in the area.
My source told me of three day time taco trucks near century city so I set off to check them out.
Tacos El Pastor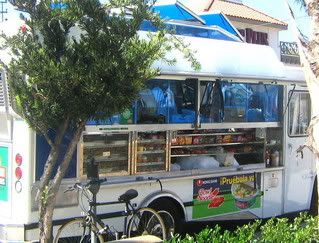 First up was a truck parked in front of the Blue Sky Car Wash at the Northeast corner of Westwood and Santa Monica blvd named Tacos El Pastor. The clientele was made up of mainly car wash employees and local construction workers who don't feel like dropping an Alexander Hamilton at Eduardo's Border grill. Eduardo's is good but a two taco combo plate and a drink shouldn't cost 10 bucks.
I'm always cautious when a taco truck doesn't have a menu. A catering truck is a pretty expensive endeavor..why the secret menu? I'm also kind've paranoid...is there no menu so the local workers can get the good deal and my white ass gets hosed?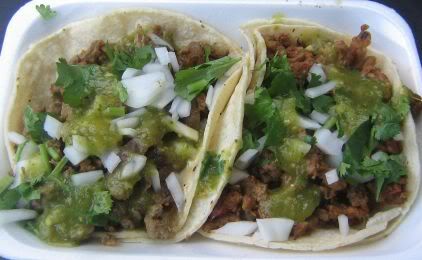 The tacos came on medium sized tortillas with a salsa verde. The tacos had alot of meat in them but give me quality over quantity . These tacos were horrific. The meat was so fatty and flabby it had
Richard Simmons
on speed dial. I got through half of each taco before I wanted to
T.O
myself. The damage? two tacos and a jarritos $4.50 . Ouch.
Century West Car Wash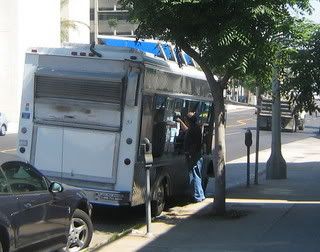 Next I made my way to a truck parked at the car wash at Pico and Beverly next to the Century West Car Wash. Upon a closer look this wasn't your classic taco truck, more of a do it all lunch truck serving everything from burritos to pastrami and burgers. A few workers from the car wash were enjoying seafood tostadas that looked really good. The menu had three tacos on it :ground beef, carnitas and carne asada. I ordered the carne asada and carnitas. Tacos were $1.50 each.
Both tacos came with a pico de gallo and avocado sauce. The carnitas also came with carmelized onions. The asada while not fatty was just very bland and tasteless. The carnitas was really good though . The pork was tender and browned on both sides . But the avocado sauce was too dominant, it just overwhelemed everything.
Like I said..this isn't really a "taco truck" and more of a do it all lunch truck. Something on the grill smelled really good and the people kept lining up so give it a go but I can't recommend the tacos.
Paloma Selestial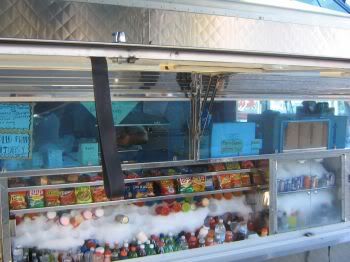 By the time I got to the cemitas poblanas truck parked outside the washington mutual at Overland and Pico I was really dying for an authentic LA taco. This truck's name is Paloma Selestial but my source referred to it as "tacos wamu". The signature dish here is the cemita poblana de milanesa. It's a sandwich with a domed roll, thin breaded beef, slices of avocado and a chipotle pepper. You can order the sandwich with any type of meat but the milanesa seems to be the most popular.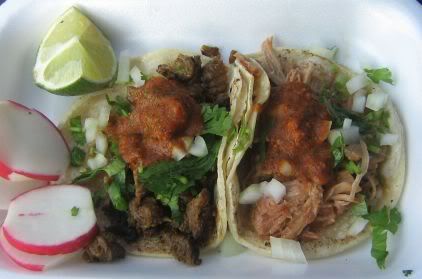 I ordered carnitas, al pastor and carne asada. Tacos were $1 each. The carnitas and al pastor hit the spot. The carnitas was salted shredded pork on top of well oiled tortillas, and the al pastor a stewed blend of pork and onions with lots of flavor. The asada was decent but it was a bit pulverized and lacked the juicyness and flavor of good carne asada. All three tacos came with an excellent salsa roja that reminded me of King Taco's famous red sauce, the difference being it was much lighter and not a total assault on your senses.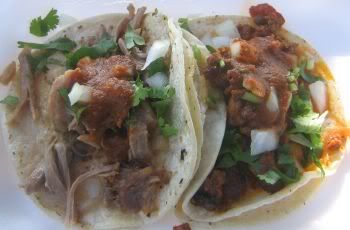 This is a popular lunch hour truck that can get quite busy. They park at two different locations. Between 11:30 and 3:30 at the Wamu and then move about a mile east at the corner of Pico and Manning in front of the Pep Boys where they stay til around 7pm.

So yes you can get a good LA taco near Century City. Who knew? Not me...but now I do..and so do you my little taco conquistadors.