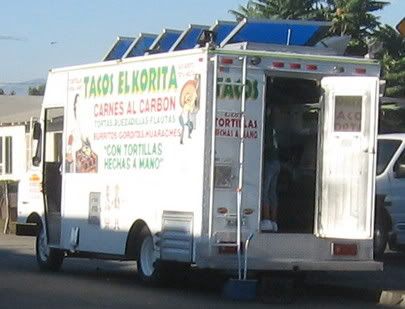 When a fellow taco hound emailed me and said they make the trip all the way from Agoura hills to a taco truck in East LA called Tacos El Korita I knew I was in for something special.
So thursday afternoon I made my way east out of downtown LA in search of this glorious truck. It was just after 5pm when I made it to East Olympic Blvd. Taco trucks started popping up everywhere, a mariscos truck in a parking lot with a tent and table setup, a taco wagon across the street. As tempting as it was to pull over at the first taco truck in view I was in search for the famed Tacos El Korita.
I order the taco trifecta - asada, carnitas, and al pastor. A hunk of pork twisted on a vertical spit, a tortilla press clamped next to the grill with the cook forming fresh masa into the press and then tossing the fresh corn tortillas on to the grill. Tubs of salsas and condiments- marinated carrots, jalapenos, a salsa verde, roja and pico de gallo were set on the counter attached to the truck.
Everything starts with the tortillas hecho a mano(homemade). The carnes are excellent and skillfully prepared but it is the homemade tortillas that leave the lasting impression. The carnitas had a crunchy texture and a soft moist center, the asada charred and peppered and the al pastor packed with juicy chunks of seasoned pork.All were delicious and complimented by an intense roja that brought the heat and a smokey salsa verde that complimented the carnitas perfectly.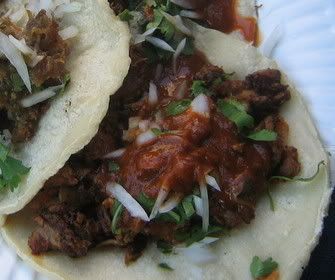 The salsas reminded me of king taco, especially the verde. The roja wasn't as thick as the King's but it's intensity and flavor rivaled some of the best roja's i've had on this taco journey.
The strip of east olympic off the 710 and 5 freeway is a taco mecca. The trail of taco trucks culminates where the 710 and 5 meet with a massive King Taco that looms large over the taco landscape. This is the major leagues where only the big players in the taco scene lay down their taco fare.

Tacos El Korita is at East Olympic Blvd and Herbert Ave, East LA
4pm to 12am weekdays
4pm to 2am weekends
Tacos $1.25