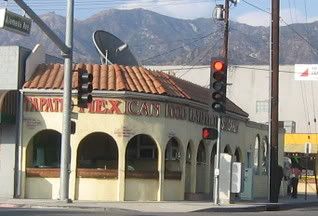 Burbank may be the media capitol of LA but it is mostly a taco wasteland. Aside from the excellent
Fiesta Taco
on Hollywood Wy it's slim pickens in this east valley city. It seems the farther from the major studios you get the better your chances are of finding an authentic taco. There's a couple taqueria's in east burbank I've heard good things about. El Tapatio is one of them.
El Tapatio at Alameda and San Fernanado serves up authentic tacos at $1 a pop. The usual suspect of meats topped with a spicy salsa roja and a free side of chips and salsa. Three tacos and a tamarindo sets you back 4 bucks and change which sure beats the corporate offerings of baja fresh and la salsa.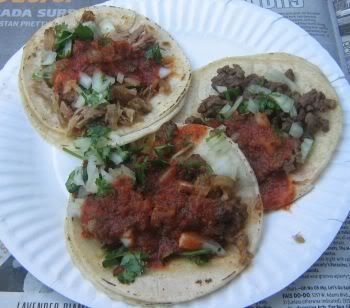 I ordered carnitas, asada and al pastor and enjoyed my tacos in the laid back patio area. The free chips and salsa were a nice touch.
The carnitas and al pastor shined with the salsa roja . The carnitas shredded and soft, the al pastor a blend of seasonings and juicy goodness. The asada was disapointing however..the beef was bland and unseasoned and a bit fatty. I only got through the asada taco because I drenched it in the salsa. The salsa isn't crazy spicy but the tamarindo came in handy after I chomped down a couple jalapenos.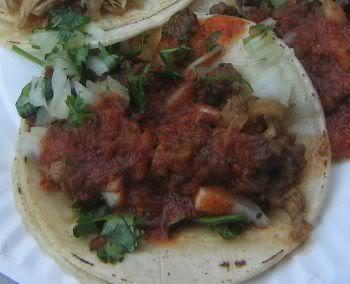 If you're in burbank this is a place to check out. Quite a large menu with everything from tacos, burritos, and tortas to chile verde, enchiladas, and mariscos. All quite affordable as well.

926 S San Fernando Blvd
Burbank, CA 91502
Tacos $1