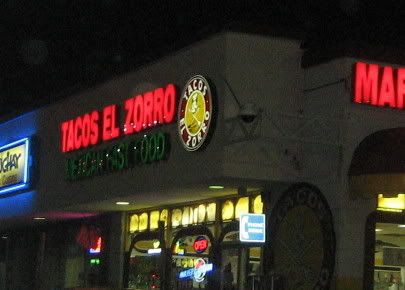 I got a tip from a fellow taco hound named Moose to check out Tacos El Zorro at Sherman Way and Colderwater Canyon in Van Nuys. Tacos El Zorro with three locations in Van Nuys are big players in the Valley where there is no big name taco establishment.
The mariscos get top billing at Tacos El Zorro, the large chalices of seafood cocktails are monuments of excess, the largest sold in a goblet made for a king and priced at $21. But I didn't come for the seafood as enticing as it looked, I came for the tacos. After a quick glance of the taco options I knew what I wanted, un taco de asada, y un de pastor.
When my tacos were ready a nice mamasita brought a tray with my tacos and two squirt bottles of salsa, a chile arbol salsa roja and a complex orange colored tomatillo salsa. I went with the roja for the carne asada and the orange on my pork taco.
al pastor
The al pastor, seasoned with cumin and lime was not your traditional al pastor but it was excellent. The chunks of pork so tender , so different yet so delicious. The sweetness from the orange salsa was the perfect compliment to the seasoned pork.
carne asada
The carne asada was top notch as well. The marinated skirt steak on top of thick homemade corn tortillas with a pico de gallo and a salsa roja took me to that special taco place I only go to for the finest of tacos. The beef was tender with a hint of garlic and the taste of citrus marinade in every juicy bite. The tomatoes and salsa roja provided a perfect balance to the salted beef, the juices soaking into the thick fresh toasted corn tortillas.
Very often a great salsa can hide the weakness of a taco. But these tacos had no weakness. The homemade corn tortillas and the artfully prepared meats didn't hide behind a great salsa. The salsas added extra juice to already delicious tacos.
These may be the best tacos in the valley and as far as Van Nuys is concerned Tacos El Zorro has no equal.

Tacos El Zorro
13710 Sherman Way (Sherman Way and Coldwater Cnyn)
Van Nuys
Tacos $1.70