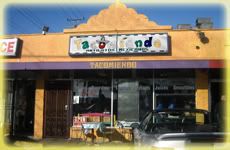 In a small strip mall across the street from Taqueria Sanchez on Inglewood blvd in Culver City is
Tacomiendo
, one of the westside's finest taquerias.It's the westsides answer to Baja Fresh serving up fresh made to order authentic antojitos and platos that you wont find at any of the cali-mex chains.
The menu consists of everything from birria to chile verde to burritos, tacos and tortas. I ordered the plato de tacos(carne Asada and adobada) and a bottle of mexican coke. They also have aguas frescas and fruit smoothies.
The salsa bar at Tacomiendo is one of the best on the westside. A spicy dark salsa roja, a jalapeno and cilantro verde, and a pico de gallo as well as
jalapenos, carrots and a large pot of complmentary frijoles.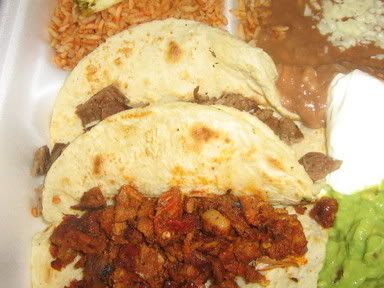 The plato came with a generous scoop of fresh guacamole and sour cream as well as arroz y frijoles con queso.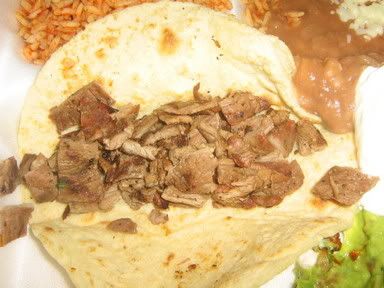 Both tacos came with homemade corn tortillas so fresh you can almost taste the masa. The carne asada lean, and tender with the taste of the grill seared into the beef was excellent with the dark salsa roja.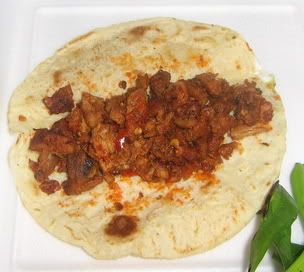 The bold flavors and spice of the marinated grilled pork were calmed by the mild guacamole with the juice from the pork soaking into the toasted corn tortilla.
Everything is made fresh to order at Tacomiendo so you may have to wait for your food but it is well worth it. If you're in the mood for something other than tacos I highly reccomend the chile verde con nopales.
4502 Inglewood Blvd.,
Culver City, CA 90230

11462 Gateway Blvd.
West Los Angeles, CA 90034

tacos $1.75 each