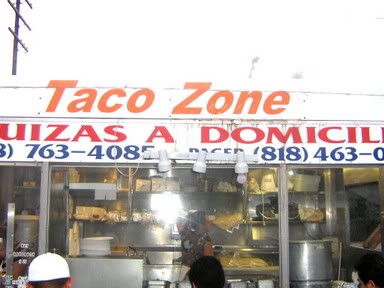 Echo Park is a tough town.It's also tough taco territory. Don't even think about serving up some half assed tacos in Echo Park. Not if you want a regular clientele and some respect in the taco community. It's not exactly a taco mecca like Highland Park or El Sereno but the folks in Echo Park know a good taco when they taste one.
Which brings us to the Taco Zone at Alvarado and Montana Ave. These ladies know how to prepare a taco. Soft toasted corn tortillas and tender meats with a smile.
It's a farmiliar scene. A pot boils inside the truck, a cylinder grill smokes with meats, taco patrons hustle up to the counter peppering their tacos with chile salsas and onions and cilantro.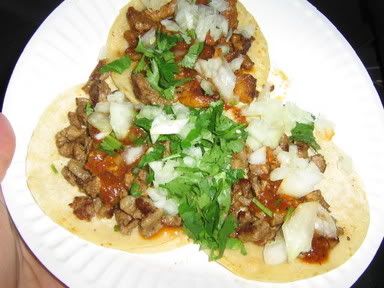 I order asada, al pastor and suadero. The asada and suadero(rib meat)soft and just greasy enough to soften the tortillas. The al pastor tender with a sweet glaze, a little crunch and alot of flavor. All the tacos doused with a red chile salsa that brought the heat.
Homemade horchatas or cans of soda from a iced bucket to wash down your tacos. Take away salsa cups available for those on the go.
Overall excellent tacos at one of Echo Park's most well known taco wagons.
Rate Taco Zone

Taco Zone Alvarado & Montana Ave (north of sunset blvd next to Vons) Tacos $1