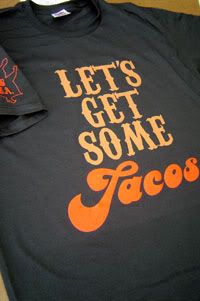 You wont find me pimping many products but I'm breaking form here. I'd wear one of these t-shirts everyday if it were socially acceptable. Check out
http://beezocalifornia.com/tacos.html
Great article on the taco truck business.
"Los Angeles is the hub of this culture, and as the tender nursery to the taco-truck world, it is responsible for its gradual expansion into the rest of the country." Truer words have not been written my friends. The taco truck scene is exploding all over the country and Los Angeles is the taco capitol.
Much like LA there are taco truck clampdowns happening everywhere from
Lodi,California
to
Austin,TX
to
Raliegh, North Carolina
. There is a wave of unchecked aggression against the taco culture. On the surface it's just a bunch of whiners that aren't copasetic to the taco lifestyle but in my opinion there are nativist elements at play also.