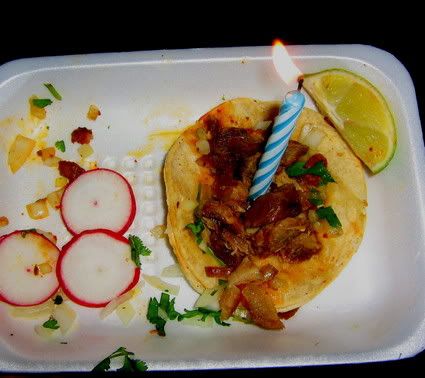 So ya I got a few funny looks from the other taco truck patrons when I pulled out a candle and lit it on my taco. And yeah even a few more funny looks when I blew out the candle.
It was one year ago today I posted the
Mission statement
where I declared that no part of the city was safe from the taco bandini. Well some cities escaped my taco reporting. Long Beach, I'm putting you on notice.
But it's been a good year. 76 taco establishments on the board almost 200 tacos consumed and only one upset stomach.
Since the day I set out on this journey I've become a more adventurous taco eater. I'm no longer afraid of the cabeza and lengua.Sesos still freaks me out though.
There are still many famed taco establishemts to get to. Cheo's in El Sereno, El Taquito mexicano in Pasadena, Tacos Baja ensenada, Taco Nazo...the list is long.
stay tuned..