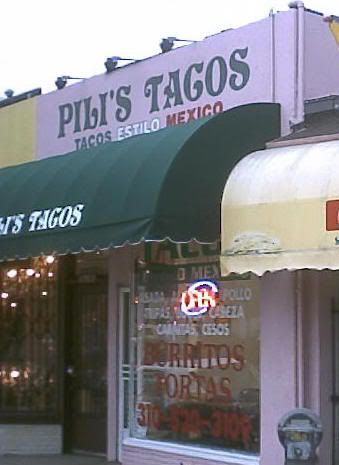 I got a tip from a taco informant about some taco activity in West LA. The suspects name was Pili. Apparently this Pili was grilling up some authentic tacos on the westside. I think that's actually a misdemeanor. Section code c1300-200.
I salute Pili's for their boldness. They set up shop across the street from La Salsa,one of Southern California's fresh mexican grill chains. La Salsa's motto is "keep life fresh, keep it exciting" I have no frickin idea what that means.
I got a closer look inside Pili's: A few tables, a counter with stools, a cooler with bottled soft drinks. I wasn't too hungry so I ordered a carne asada taco and a carnitas taco to go.
I tore into the beef first after plucking out a few fatty bits. The greasy carne asada really hit the spot, the salsa roja was not real spicy but had good flavor to it. The tortillas were damp but I expected as much when I decided to get my tacos to go.Foil will make your corn tortillas sweat and they can get a little soggy.
The carnitas was soft ,juicy and well seasoned. Not too porky and no stray bits of fat to ruin the experience.
Overall these were quality tacos that demand a second trip to try the al pastor and barbacoa and other antojitos.

11924 Santa Monica Blvd, West Los Angeles
Tacos $1.25