The afternoon taco hunt is slim pickings in many parts of the LA. You can't park between 4-7 pm on most of your busy streets and your average taco truck operator doesn't set up shop until the sun goes down. But there are some taco trucks that park on lots or in front of Supermarkets.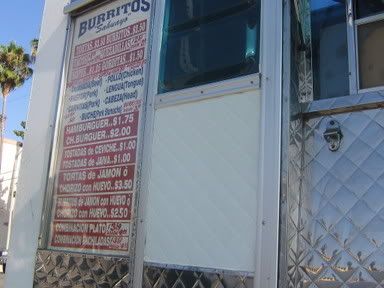 I found such a taco truck at the HK supermart at 6th st and Oxford. But upon further inspection I had come across my first Burrito truck.. I order tacos anyway, one carne asada, one al pastor.
Two squirt bottles of salsa, a roja and a verde were set on the counter.The salsa roja was a standard taqueria salsa. A tomatillo and chile de arbol mixture with some sweetness to it and a little spice. The verde a tomatillo and jalapeno chile mixture.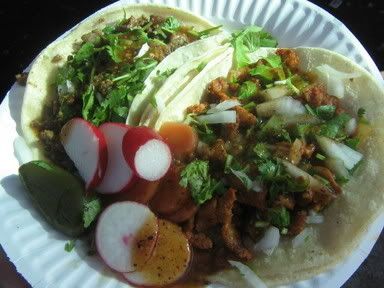 After a few bites into the pork I just wasn't feeling it. After so many excellent al pastor tacos lately from a rotating spit it's hard to appreciate the standard flat grill style pork.
The asada was different though. Finely cut, some fatty bits but there was alot of flavor. The juice from the beef was in every bite and quite flavorful.
The upside to these tacos was that they were huge and only a buck each. For two bucks I was full the whole day. There was enough meat in each of these tacos to fill your average burrito. Which makes me wonder how hefty is the $2.50 burrito?

Burritos Sahuayo 6th st and Oxford ave Koreatown. Tacos $1