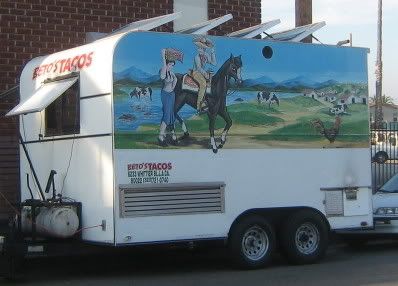 Along an industrial strip of Jefferson Blvd just west of La Brea Blvd parks Beto's tacos. Pumping out tacos, burritos and tortas well into the night or until the propane runs out Beto's is as much a neighborhood taco wagon as it is an afternoon taco stop for the working man.
Inside the truck three hombres were hard at work slicing and dicing meats while a TV mounted in the corner was turned to Telemundo.
All the signs of a great taco wagon were present: Compartments with salsas(verde, roja, avocado), cilantro, onions, radishes, jalapenos. Of course this wouldn't mean a whole lot of the meats weren't well prepared. But never fear, these fellas know how to please.
The asada was moist and flavorful but it's the al pastor cut right from the roasting spit that shined.
Seeing a vertical spit with a rotating slab of seasoned pork is like blood in the water for the al pastor devotee and I became shark mouthed waiting for the impending plate of pork and carmelized onions.
I was not disapointed. The salsa roja and juice from the pork fused together into a luscious broth that soaked into the toasted corn tortillas and created a taco experience I havn't had since the outlaw taco cart on
Cesar Chavez
There's a good vibe at Beto's . It's the kind of truck you can't wait to get to at the end of the work day to pop open a cold beverage and relax with a plate of tacos.

for Al pastor
Beto's Tacos Jefferson Blvd 2 Blocks west of La Brea. Tacos $1
Rate Beto's Tacos