Tacos La Flama has been on the scene for a few years now having replaced a Campos Famous Burritos. Parking at this mini mall can be hard to come by and luck would have it some jack ass took up two spots with his Range Rover and I was forced to park half way down the block.
Serenity now, serenity now.
I'm quickly becoming a fan of this place though. They even have a butcher at the rear of the restaurant that sells carnes de cesina y chorizo. Cesina is aged beef that tastes similiar to carne asada the major difference being that cesina is much leaner. I bought some cesina a few weeks back and grilled it up and it was excellent.
If tacos aren't your game (then again why would you be reading a taco blog?)try the chicken burrito mojado. It's a shredded chicken burrito topped with enchilada sauce and melted cheese.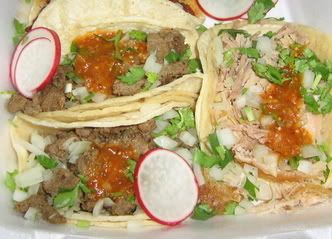 As far as the tacos the asada was disapointing. The beef had a lemon flavor that was so overwhelming I could barely get through the first taco.
The carnitas was a little dry but nothing an extra cup of salsa roja couldn't remedy. But the al pastor was the real show stealer. The pork had a candy like glaze to it with the perfect balance of tenderness and crunch.
Try the al pastor and cesina but don't be a jack ass and take up two parking spots.

2404 S Barrington Ave
Los Angeles, CA 90064
Phone (310) 966-9027
$1.25 tacos