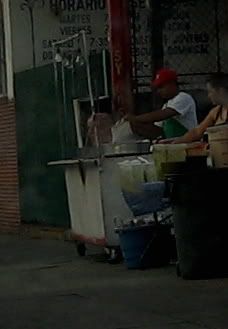 A hunk of seasoned pork twists on a vertical spit, a hubcap like cylinder braises beef, chorizo and lengua with tubs of salsas, onions and cilantro awaiting at a nearby table. This is the taco cart. A fixture in the east side neighborhoods of Los Angeles.
The taco cart does not have a menu or a name. It is often an extension of the community where loyal customers know the cooks on a first name basis. You'll find taco carts or as they are sometimes called taco tables at many parks in East LA and on the busy avenues and boulevards of the eastside.
The western most taco cart in LA that I am aware of is the taco cart at Vermont and Venice Blvd. A favorite of
LA chowhounder known as Dommy
, this taco cart sets up shop nightly around 8pm and burns the fire well into the night.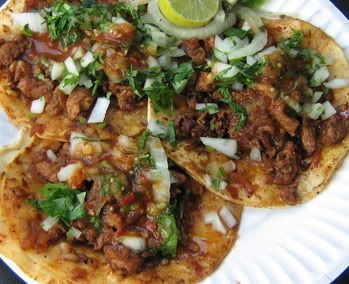 I order three tacos al pastor and watch as the pork is cut from the spit and sizzles on the grill next to a mound of grilled onions and corn tortillas that soften from the pork drippings. In one motion the pork is soaked up with the soft tortillas and put on to the plate. The chef has the motions down to a science and makes it look like an artform.
The pork is tender and juicy staining the toasted corn tortillas . The juice from the pork and the salsa combine together into a luscious gravy that soaks into the top tortilla and gives the taco great texture. The roja doesn't make me reach for my cold beverage but it provides good balance.
The taco cart is the quintessential street taco. From the streets of Mexico City, to Tijuana to the streets of East Los Angeles there is this common attitude that derives from the street taco. The taco cart is the product of impulse. It pulls you in and seduces you.
And when you stand on the street corner with a plate of tacos with the traffic jam right in front of you but so far away you may realize that for this moment you are not in that marching order of monotony waiting for the next light to turn green. You've pulled over to the side of the road because as the fellas at
TACO
have so fittingly put it. You live the taco lifestyle.
Vermont and Venice Blvd $1 tacos