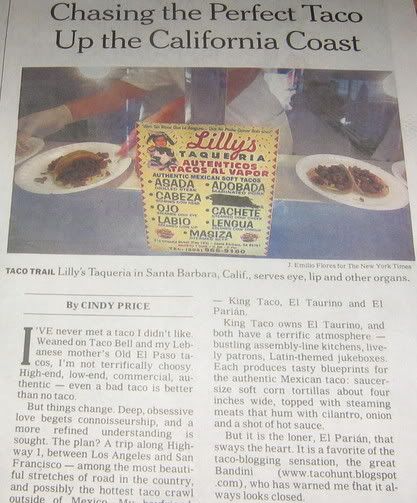 NY Times: Chasing the Perfect Taco Up the California Coast
NY Times writer Cindy Price has written an excellent article on the taco trail from Los Angeles to San Francisco. The NY times crew hit highway 1 and sampled tacos up and down the coast. An impressive taco run and one that will go down in the annals of taco exploration.
El Parian, King Taco, El Taurino and Tacos Baja Ensenada make the cut in Los Angeles. Yours truly is mentioned and described as a taco-blogging sensation! Yes!
Fish tacos, carne asada , al pastor, lengua, even tacos de ojo! (cow eyes) are sampled. Ms Price and crew hit up 28 taquerias and 49 tacos in 5 days! Quite the taco conquistadors!
As
Ali G
would say, Respek