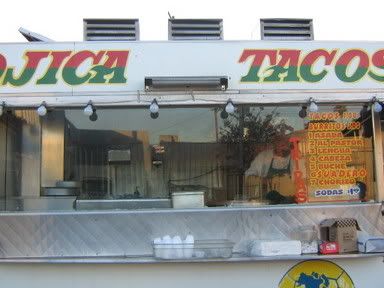 On any given afternoon on the street corners of East Los Angeles you will find the taco wagon. Parked in front of auto repair shops or empty lots the taco wagon is an important cultural fixture on the eastside. It's where day laborers shuffle out of a work trucks, where locals socialize and fritter away the remaining sunlight , where the working man unbuttons his shirt, rolls up his sleeves and holds the taco in his palm that represents more than just the end of the work day.
We all come together knowingly or not stewing in this experience.
It's the East LA taco cart where it's important to act like you've been there before. Ordering in spanish helps, just don't give any indications that you're a soft westsider.
al pastor and carne asada
My al pastor and asada tacos greeted me through a slideing glass window and I dressed the tacos with onions, cilantro, and salsa roja from the condiment table.
carne asada
The beef just greasy enough to soften the corn tortillas and the salsa roja with a heavy chile arbol flavor had enough bite to have me scambling for my can of coca cola.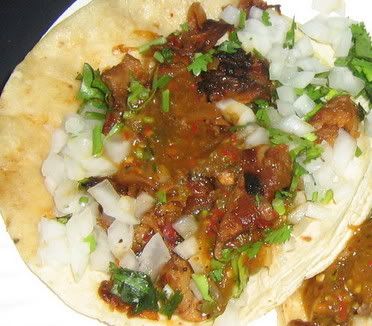 al pastor
Thin slices of charred pork felt right with the carmalzied onions and spicy chile. The heat from the roja caught up to me and I had to sweat the last couple bites out but it was worth it.
Eating tacos from street vendors is a way of life in these parts where sitting on the hood of ones car with a plate of tacos and a cold beverage is what makes us Angelenos. We kick back. We kick back and eat tacos. Especially on the eastside.
The tacos were pleasing enough to not ruin the moment and that's all anyone can really ask for. Sometimes it's the experience not the tacos themselves that make it all worthwhile.

Mojica Tacos
corner of Alhambra Ave & Hollister
El Sereno 90032

Rate Mojica Tacos