The sign says tacos, burritos y mulitas but the menu at this popular downtown LA taqueria doesn't stop there. The combination plates are piled high with your favorite traditional mexican cravings,the seafood platters are delicious and the horchatas are some of the best in the city.
The al pastor is roasted on a vertical spit, the asada char-grilled and the corn tortillas fresh and homemade on the spot. They also have a condiment bar with marinated onions and carrots as well as several salsa rojas and verdes. La Taquiza is everything you'd want a taqueria to be.
mulita!
I've been a fan of La Taquiza for awhile now but all this time I have never tried the mulitas. This is a taco hunt but the mulita is from the same family as the taco.It's somewhat of a quesadilla/taco hybrid. They grill two fresh corn tortillas and melt cheese on each of them, take some meat and spread some guacamole and some salsa roja and then press the two sides together like a sandwhich. Delicioso! The saltyness of the pork entwined with gooey cheese, the creamy avocado and toasted fresh corn were amazing. Oh my.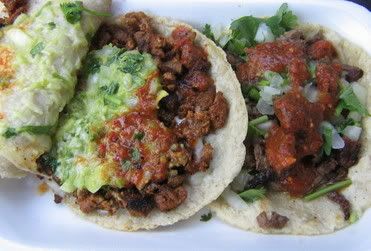 al pastor mulita and carne asada taco
It was hard to top the mulita but the carne asada was equally as pleasing. The tender juicy beef was charred in the right spots and the salsa roja provided a little kick. The soft toasted fresh corn soaked up the excess juices from the beef and salsa and I washed it all down with an ice cold rice horchata.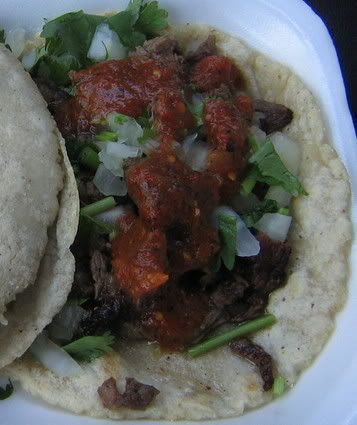 carne asada
Excellent taco and the mulita was delicious. I'll be ordering mulitas more often when I see them on a menu to compare them to LA Taquiza.

LA Taquiza
3026 S Figueroa St
Los Angeles, CA 90007
Tacos $1.45
Mulita $2.70