At the border of El Sereno and Alhambra on Huntington Dr in front of a Food for less market parks one of LA's finest taco trucks.
La Golondrina has a full menu with tacos, tortas, burritos, and enchiladas. Any taco truck that has enchiladas on the menu gets my attention. Pumping out tasty tacos is one thing but cheesy, saucy enchiladas out of a catering truck is hardcore. Lets the taco patron know there is some serious cooking going on. I didn't order the enchiladas but I took note of it.
A sign reads "tacos de tripas $1.50", another "Horchatas $1" Another lists the meat options(asada, pastor, cabeza, lengua, chorizo) I ordered asada and al pastor and popped open a bottle of mexican coke.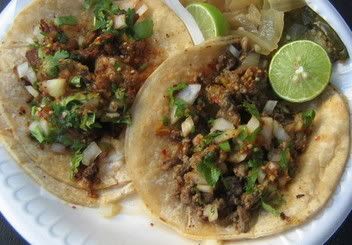 The medium sized tortillas were well oiled and pipeing hot and the asada juicy and very flavorful, the product of an excellent marinade. The salsa had some kick to it but the taco's high points were the flavor of the beef and the juice that soaked into the toasted corn tortillas. The tortillas were sturdy enough to handle all the juice while a lesser taco may have collapsed.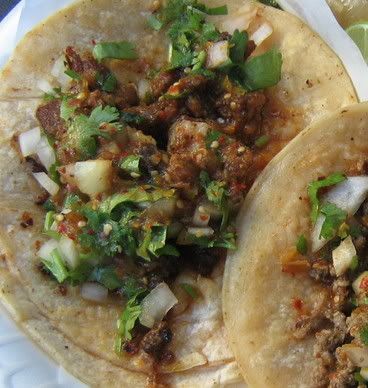 The al pastor was moist with several charred bits on top of a saucy blend of juice and carmalized onions. No vertical rotisserie in view but the texture and quality of the pork tasted as if it had been slow cooked and carefully prepared. Again the spicy tomato salsa was the perfect compliment and the soft toasted corn tortillas soaped up all the juicy goodness. These tacos are bigger than your average taco truck tacos and at $1 each are an incredible deal.
Huntingon Dr has it's share of taco trucks. I passed by two others on my way to La Golondrina and made note of them. But this afternoon La Golondrina was the goal and having sampled their fine tacos I now have an excuse to return to Huntingon Dr again and check out the competition.

La Golondrina
Huntington Dr
East of Eastern Ave
Front of Food For Less Market
El Sereno
Tacos $1 each

Rate La Golondrina