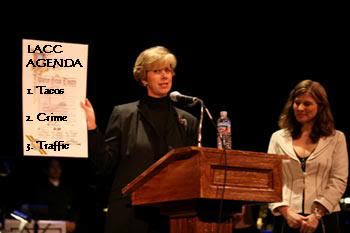 Councilperson Janice Hahn sought out the higher penalties for "repeat offenders"
The LA city council responded to the taco community today my friends. As
CBS news
has reported the city council has raised the fines for violating the
catering truck ordinance
. Previously fines were between $45-90 for your first three offenses. The first offense is now $90 with the third raised to $300. That's 90 and 300 tacos if your counting. I am.
As
previously covered
on these pages the LA City Council passed an ordinance that forces a catering truck to move location every hour or face penalties.
So this is just a reminder to email your
city council person
and to contact
Mayor Villaraigosa's
office asking him to veto the ordinance.
Also don't forget to sign the save the taco truck
petition
The ordinance goes into affect on July 23rd.