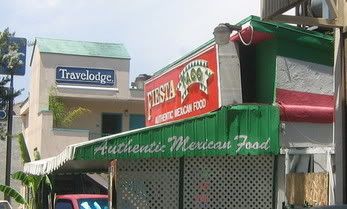 Fiesta Taco is a taco hut on Hollywood Wy that serves up everything under the sun when it comes to mexican antojitos(cravings) . Get a plate of pozole, chile verde, chile colorado , even mariscos. The menu is massive with extra specials posted along the walls in photo and written form. I gazed around until I noticed a taco special (3 tacos and a soda for $4.50) and ordered two asada and one al pastor.
After my tacos were ready I scooped some of the salsa labeled "spicy" on to them from the salsa bar. There was also a pico de gallo, a salsa verde and another salsa with similiar color to the spicy that was labeled mild.
Outside there were tables and chairs but it was lunch time and none were empty so I kicked back on the hood of my car with my plate of tacos and coca cola.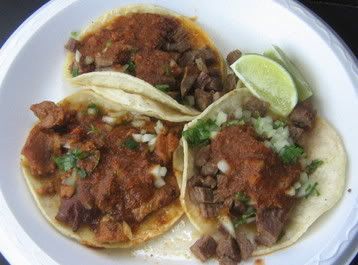 The al pastor won me over instantly. The marinated pork was soft and flavorfull. The spicy salsa really packed a wallop. The spice was strong but there's also so much flavor to the salsa that it's worth it and makes the ice cold coca cola taste all the more refreshing.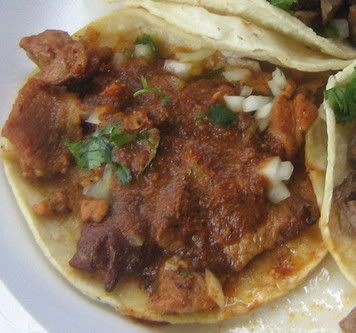 al pastor
The asada was soft and delicious. Cuts of high quality beef were well prepared with a hint of citrus marinade and went well with the dark salsa. Again the coco cola provides the perfect balance.
The spicy salsa was impressive. The texture, the boldness, the stages of flavor- peppery sweetness followed by an intense heat.One of the finest salsas I've encountered on this taco hunt.
I may be giving out alot of 4 taco ratings lately(as some emailers have suggested) but it's summertime and it's taco season. That taco that may be a 3 during the winter or spring tastes so much better in the summer sun with a cold bottle of coke.
Fiesta Taco doesn't fall into that category though. They are 4 all year 'round.

Fiesta Taco 1110 North Hollywood Way Burbank, 91505