Chabelita Tacos is a mexican fast food hut off the 10 freeway at Western Ave . They serve everything from tacos, burritos, tortas to cheeseburgers and hot dogs. They even have a mariscos truck by the same name that parks across the street.
I ordered the asada and pastor. Tacos are $1.85 each and each taco comes on it's own plate. They also have cabeza, pollo, carnitas and ground beef.
carne asada
They are big and sloppy tacos covered in onions, cilantro, avocado sauce and a red salsa. The tacos are really heavy on the sauce. So heavy in fact my first bite into the al pastor was all salsa and onions. Once I got down to the meats they weren't bad but each bite was still dominated by onions and salsa.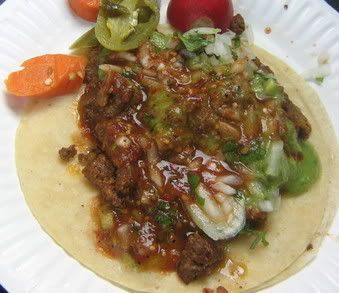 al pastor
Surprisingly the tortillas held everything together but I couldn't help but think that all the fillings would have gone much better inside a burrito with some rice to counter the sauces.
next time this is going inside a burrito
The taco can be complex but in it's purest form it's simplicity is it's greatest strength. The tacos at Chabelita rely on a complex mix of tastes but fall short when it comes to execution.

Tacos Chabelita
2001 S Western Ave
Los Angeles, CA 90018