Tacos Chatos at one time parked in front of the public works building at Mclaughlin and Venice in Mar Vista. They've since moved to a new location in front of the strip mall that houses
Howard's Bacon and Avocado burgers
about a 1/4 mile east in Culver City. Their new setup has chairs and more lighting and an overall more relaxing feel.
I ordered two tacos de cabeza and two tacos al pastor and popped open a lime jarritos.

Cabeza is cow head, or to be more specific cow cheek. Most cabeza I have had has been too fatty and unappetizing. The cabeza at tacos chatos however was special. The soft velvety beef literally melted on my tongue. Some cabeza can be chewey with a strong beefy flavor that overwhelmes the taco but this was anything but . The flavor of the beef was subtle allowing the avocado salsa,and sala roja an equal part of the taco.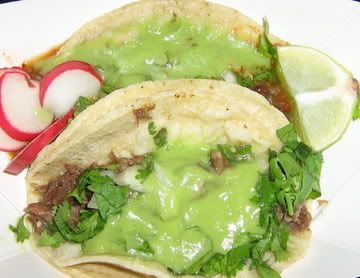 Squirt some lime over the soft beef and dig in, you wont find better cabeza than this.
For those taco eaters that havn't made the leap over to the more exotic meats and are interested in trying your first cabeza taco look no further than Tacos Chatos. If you are like me and your first cabeza taco was gamey and flabby and put you off ever ordering it again it's time to put it behind you and try these tacos .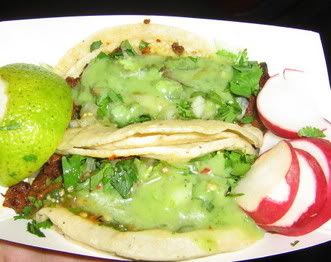 I still had some room left for the al pastor but even while biting into the pork tacos I still had the cabeza on my mind. The crumbled bits of pork didn't reach the heights of the beef but they weren't bad. The avocado salsa and roja and the soft fluffy tortillas made sure the taco would be an enjoyable one.
so what are you waiting for? go to tacos chatos!
order the cabeza

for Tacos Chatos cabeza
Tacos Chatos Venice Blvd 2 blocks east of sepulveda, Culver City. Tacos $1.25