Machos Tacos is a mexican food hut in the heart of
Los Feliz
. I've passed by it for years on my way to Yuca's but I've never pulled over to check it out.
There's some heavy taco competition in the area with Yuca's and Casa Diaz but Machos seems to have a loyal following.
The first thing I noticed when perusing the menu was a taco called the damn good chicken taco. I of course had to order it but felt a bit silly saying the words damn good. I also ordered the chicken mole taco, carne asada and carnitas.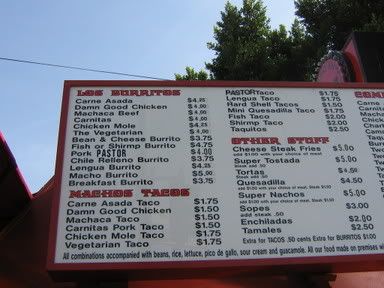 If you're going to give one of your tacos the title of "damn good" it better be damn good. Lettuce, cheese and tomatoes go well with a hard shell taco but with the soft shell corn tortillas these extras are just filler. If the chicken had a strong flavor and alot of taste to it the taco could have been something but there wasn't much flavor here. I would like to rename this taco the damn waste of $1.50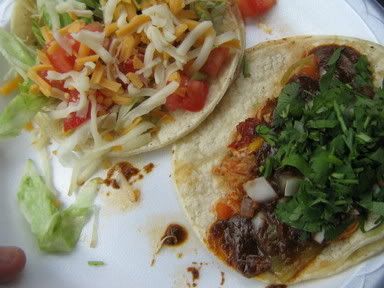 "damn good" and chicken mole
I wasn't too crazy about the carnitas either. The cubes of pork tasted off and the texture and shape of each cube reminded me of canned carnitas. I doubt this was the case but avoid the carnitas at all costs.
The chicken mole taco was interesting though. It was my first mole taco so I have nothing to compare it t. The tangy mole, mild peppers and cheese went well together and the chicken breast was very moist. I'd order this again.
The carne asada was the best of the four. The charred bits of flank steak had alot of flavor and juicyness. I could have done without the guacamole though, it was too bland and hid the flavor of the charred steak.
So Machos was kind've hit and miss. I'd probably try a burrito next time. There were quite a few people eating so I'm sure there is something on the menu that is attracting them all. The tacos didn't impress me though.

MACHOS TACOS 1670 N VERMONT AVE LOS ANGELES 90027