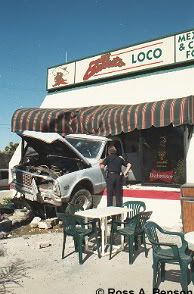 you're in violation of the new taco truck ordinance
"We're talking about unchecked aggression here, dude" - Walter Sobchak
The LA City Council has passed a draconian ordinance against hard working taco vendors. When I first heard of this I did not believe it. "Not my city" I said out loud "not Los Angeles". But it's true my friends, the taco culture in Los Angeles as we know it is under attack.
There may be some legitimate concerns with traffic and restaurant owners but this policy will not solve these issues. This ordinance only adds confusion to the problem where a creative solution would be more beneficial. This is a law that if policed effectively could put many taco vendors out of business. This is all but a ban on taco trucks when you consider the ordinance allows a truck only one hour at a location before they must move and find another location a half-mile away.
When looking at this problem the city council did not take into account the cultural institution the taco truck is in Los Angeles. The taco truck adds character to the working class neighborhoods of our fine city and many taco trucks are an extension of their communities where locals gather to enjoy tacos and socialize. These loyal taco truck patrons expect their farmiliar truck to be at it's normal location every day. I'm afraid if these taco trucks were forced to move from their location it could tear at this fabric of community. Angelenos from all walks of life rub elbows at taco trucks enjoying plates of tacos and a cold beverages. This ordinance threatens this taco truck culture.
So I ask the City Hall this...Does LA really want to lose an important part of her identity?
The future is now my friends. Either we can sit back and allow the government to chip away at the indentity of our city or we can do something about it. I urge all taco hunt readers to email
city council members
to voice their concerns.
Catering Trucks Get New Parking Rules
(CBS) LOS ANGELES The Los Angeles City Council Wednesday approved an ordinance that restricts parking for catering trucks in order to protect businesses and keep traffic flowing on city streets.
Food truck drivers will be limited to parking in commercial areas for up to an hour. Vendors must then move their trucks more than a half-mile away for at least an hour before they can return.
In residential neighborhoods, the trucks can remain parked in the same spot for 30 minutes before having to move to another location more than a half-mile away.
(more at url)