After hearing that
Taqueria Chihuahua
was being forced out of their current location by SONY/BMG(who owns the property) I was saddened that a great taqueria would be no longer . But it turns out they are moving to another location on the westside and although it must be hard to move out of a location they have been at for some 30 years I'm sure the Banda family will continue their tradition of great food wherever they go.
I love the bean and cheese burrito at Taqueria Chiahuahua. They come with the right amount of cheese and the refried beans are restaurant quality delicious. Over the years I've tried everything on the menu from the burritos Pancho villa style(enchilada sauce and cheese on top)to the enchiladas,nachos and tacos. Locals rave about the nachos norteno and burrito de chile colorado Pancho Villa style.
I was doing some taco reporting however so I skipped the burrito and ordered a carne asada taco, a carnitas and an al pastor taco. They also have lengua, buche,cabeza and chicharon.You can order a taco combo plate for 5 bucks and sample three of their meats or get your tacos sans any arroz y frijoles for $1 each.
The carnitas was the first to go down and the soft pork went well with a generous squeeze of lime and the smooth salsa roja. There was alot of juice from the meat that made the tortilla a little soggy but it held together just fine and I finished off the taco with a gulp from my lime jarritos.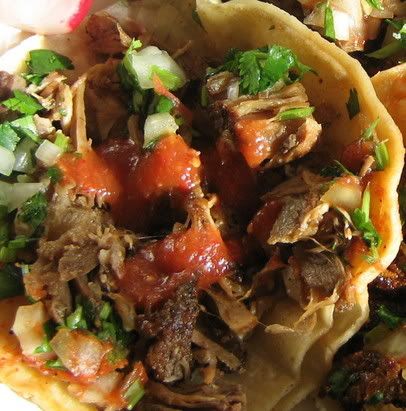 carnitas taco
I went for the al pastor next and bit into the crunchy bits of salted pork and carmilized onions. The pork wasn't from an al pastor spit so don't expect to be overwhelmed but there were no fatty bits and the roja went well with the meat and onions to make for an enjoyable taco.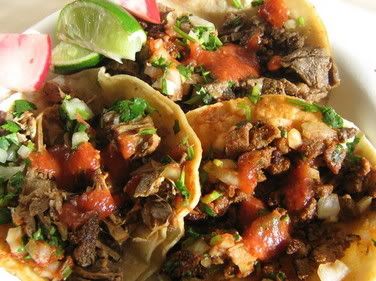 As far as the asada there's a heavy pepper flavor to the soft and tender meat that goes well with the grilled tortillas. I like to add a cup of the roja and let the salsa and the peppered beef fuse together. The salsa roja is excellent and isn't too spicy but if you add enough of it you will really feel it. I took the asada taco down in two big bites and chomped on a jalapeno for good measure. Luckily I had some lime jarritos left to cool down all the heat or I would have had to order another beverage.
Taqueria Chiahuahuha is moving out of their current location at the end of May and there are plans to open a location at 12034 Venice Bl in Mar Vista. When they do you'll here about it here. Until then don't forget to try the Santa Monica location before they close their doors.
Taqueria Chihuahua is at 1922 Olympic Blvd, Santa Monica. Tacos $1 each