Sometimes I drive the eastside neighborhoods of Los Angeles trying to find the next great taco. I'll often forget I'm on a taco journey and day dream or get lost in a song on the radio. But sometimes the taco finds me. Which was the case with Manny's El Taco Loco on Mission Rd near Lincoln Heights. There I was at the stoplight with the rotating Manny's sign glaring back at me enticing me to pull over. Being the taco reporter I am I complied.
There wasn't a soul to be seen eating anywhere, a taco ghost town. But I didn't mind,the cool saturday afternoon breeze and a couple of tacos would be all the company I would need.
the loco taco is a hardshell shredded beef taco
I walked up to the counter and was greeted with a smile and ordered a carne asada taco and a carnitas taco. When I turned around there was an old Indian man staring at me through the bars of the back wall. He scared the shit out of me at first but when I looked back at him he had a calming influence. He said something that I didn't quite understand and I replied back to him that I was on a taco journey and toasted him with my bottle of coke. He let out big hearty laugh but I'm not sure he understood me. He might very well have understood me and thought it was funny. If a stranger told me he was on a taco journey I'd probably laugh too(actually I'd probably say me too then challenge them to a duel). But I wanted to say something to him and that's the first thing that came out.
After my brief encounter with the Indian man my tacos were ready. I took a seat at the patio and started to dig in. At $1.65 each I expected larger than average tacos and these were a hand full. Each taco came with two sturdy corn tortillas, a healthy filling of meat, avocado salsa and tomatoes. I also had two cups of salsa roja which I spread on top of the meats.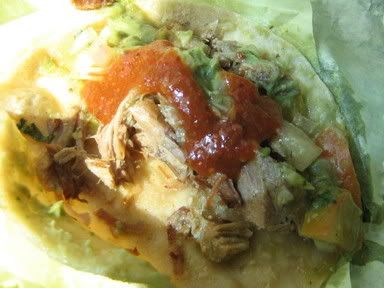 carnitas taco
I went for the carnitas first and I was impressed how well the taco held together with all the fixings. There were juicy thick chunks of carnitas that were velvety soft and melted in my mouth. This was excellent carnitas. Very moist and tender with a house recipe, not your standard carnitas.
The asada was charred and juicy and reminded me of the carne asada at Chanos. The thick cuts of beef were packed with flavor and juicyness and went very well with the avocado salsa. I'm partial to a taco with just meat, onions, cilantro and salsa and it takes a very good avocado salsa to win me over but this one did. The small chunks of fresh avocado really enhanced the flavor of the tacos for the better.
carne asada taco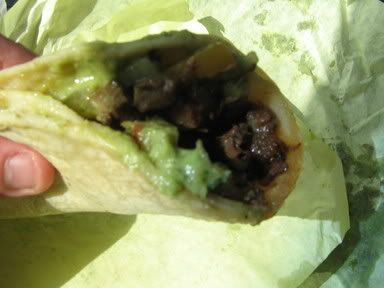 carne asada up close and personal
Everything went well together and the tortillas held all the structure of the tacos together without a hint of collapsing. As far as the salsa roja it was a little too tomatoey with not alot of kick but I'm not sure a spicy salsa was needed with these tacos. A spicy salsa might have overwhelmed the whole taco and changed the dynamics of the flavor.
I highly recommend Manny's El Loco and if you happen to run into the Indian fellow perhaps you'll have something more poignant to say than I did.

Manny's El Loco 3309 N Mission Rd, LA 90031 Tacos $1.65