I've been neglecting the southbay on this hunt and although the southbay will never be accused of being taco central there are some gems to be found.
Back when I started this taco hunt someone recommended the El Taco Loco #5 on Lomita blvd. Luck would have it I was heading west on Lomita when out of the corner of my eye I saw this taqueria.
With some heavy transient activity outside the neighboring liquor store I slipped inside the taqueria and ordered a carne asada taco and al pastor taco. I was meeting some friends for dinner later in the evening and I didn't want to spoil my appetite but I also didn't want to pass up a taco opportunity.
This is a great little taqueria with a very affordable menu.You can get three tacos rice and beans for $3.50(monday-thursday)otherwise tacos are $1.25 each.Another special is four tacos(pastor,cabezo,pollo) and a small drink for $3.25.There's not much going on at this stretch of Lomita Blvd and there aren't any offices nearby so it's probably tough to get the crowds in for lunch and the specials are a great way to do it.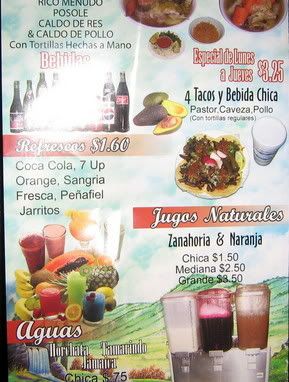 My tacos came wrapped in thin paper with a small plastic bag of jalapenos and marinated onions. The tortillas were hechas a mano(homemade)and the difference was noticable not only in the taste but the durability. One tortilla per taco was able to hold the meats onions and salsa without collapsing. When looking at the menu it's unclear whether the taco specials come with homemade tortillas so that's something you should inquire about.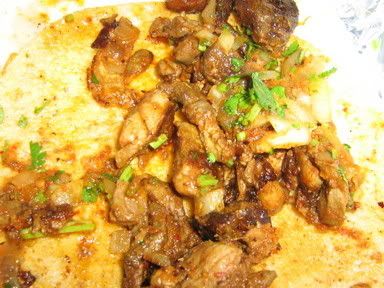 al pastor taco
I opened up the al pastor first . The charred bits of pork went well with the carmalized onions and smokey salsa roja. The juice from the pork and salsa soaked into the fresh corn tortilla and I was really pleased with the overall flavor of the taco. It met all the standards of what makes a great taco.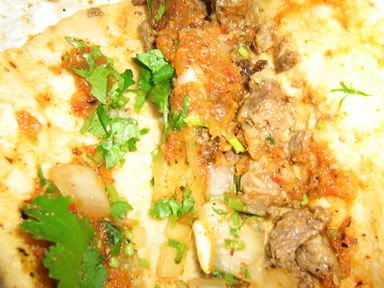 carne asada taco
As far as the asada the meat was tender but I wasn't gettting the same feeling I had just recieved from the al pastor. It could be that the al pastor was so good that the asada couldn't compete but there was something missing . A few bits of fat in the taco didn't help it's case either.
But I will return to the southbay soon and undoubtedly remember El taco Loco when dining at other taco establishments in the area. I don't feel like I have my pulse on the southbay taco scene like I should so that's where I lean on you loyal reader. Send me your favorite southbay taco trucks and taquerias so I can broaden my taco resume and I will report back with my findings.
The taco journey continues....

El Taco Loco #5 1223 Lomita Blvd, Harbor City 90710 open daily 7am - 11pm , Tacos $1.25