Taqueria Sanchez is a popular taco destination for westsiders. Two locations less than a mile apart from each other serve up cheap tasty mexican food for the people. The Centinela location has an indoor seating area and a salsa bar while the Inglewood blvd location has a taco window to compliment the carniceria and mercado.
I was at the Inglewood location buying some carne asada and decided to have a few tacos. I've heard Taqueria Sanchez described as the best taqueria on the westside but they'd have to go a long way to replace tacos por favor and Don Felix as my local taqueria of choice.
I ordered asada, al pastor and shrimp tacos and by the time I was done paying for the carne asada and a lime jarritos inside the market my tacos were ready.
The first thing you need to know is that the salsa roja may look harmless but it has some kick to it. So if you are one that likes a mild salsa I suggest asking for a verde. I like my salsa to make me sweat a little and reach for my lime jarritos so I poured the salsa liberally over my tacos.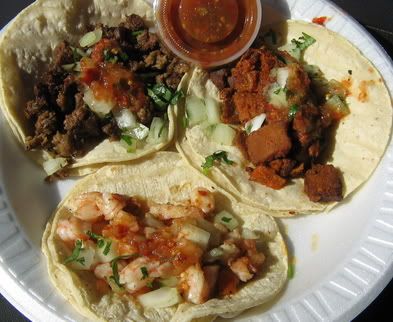 I tackled the shrimp first. The shrimp was sauteed with a subtle garlic flavor. It didn't overwhelm me and there was no taste explosion but I'm partial to crispy shrimp tacos anyway. No complaints here though, at $1.50 each the shrimp tacos are a deal.
The asada is unique at Taqueria Sanchez in that it is baked not grilled or braised. The end result is toasty charred bits of beef with an extra beefy aftertaste. The first time I had the their asada I was put off by the method but it's grown on me and I quite enjoy it now.
The al pastor is also prepared differently. There is a heavy dry rub of seasoning on the chunks of pork. This is not your standard al pastor and I'm not even sure it should be called al pastor but I liked it. It was different and the heavy chunks of pork packed alot of flavor.
Overall a good taco experience and the market at Taqueria Sanchez is a must for all westsiders. Fresh salsas and carnes that locals line up for make this taqueria a local institution.

Taqueria Sanchez is at 4502 Inglewood Blvd . Tacos $1 each. Shrimp tacos $1.50