Grand central market
in downtown Los Angeles is a city landmark. Opened in 1917 the stalls at this market serve everything from mexican food to chinese to ice cream cones.There's also a large produce area as well as butchers, bakers..maybe even candlestick makers.
I came for the tacos however so I didn't muck about too much. I made a b-line for tacos tumbras A Tomas, a stall that serves tacos, tortas, and burritos.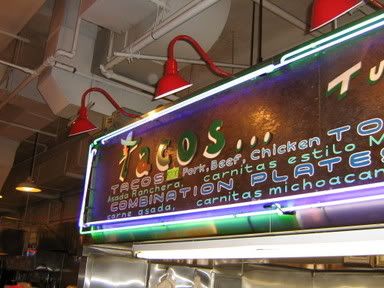 Their tacos are famous for their size and the amount of food you get for your bucks. The tacos are so large you literally need a fork to eat them. You also get two corn tortillas on the side for every two tacos you order so you can make your own tacos on the side of you want to.
I ordered a carnitas taco and an asada taco. Word to the wise,don't order more than two tacos for yourself. There's so much meat on each taco that it's like ordering a carnitas plate and a carne asada plate and getting 4 tortillas on the side. And for only $4!
After you order the guys behind the counter quickly spring into action and with lightning quick reflexes spoon mounds of meat on top of fresh corn tortillas. If you get your tacos con todo they toss some onions, cilantro and red sauce on the meat and plant a fork in the middle of the plate.
I made an attempt to eat the first taco like I would any normal taco but I ended up making quite a bit of use out of the fork. The salsa roja spread over the fried pork was delicious. The pork was soft and tender with plenty of juice which is always a good sign for carnitas. The asada was equal to the task. The beef was tender and slow cooked with a roast-like quality.
With my extra tortillas I made a hybrid taco of carnitas and carne asada and boy was I dancing. The meats and the luscious salsa roja combined together to make quite a taste explosion.
As far as the salsa roja it had some spice to it but I didn't have to reach for a cold beverage. It takes a really kicked up salsa roja to make me reach for a cold one these days. Before this taco hunt I put myself through an extensive training program of chugging down bottles of
tapatio
and tequila as well as mind over body exercises to prepare myself for the harshest of chiles and salsas. The closest I've come so far was at
Don Felix
. The habanero salsa at Don Felix made me curl up into a ball but in the end made me stronger and prepared me for my ultimate conquest: to try every taco in Los Angeles, to not back down from any salsa roja and to ultimately become taco laureate of this fine city.
Every Angeleno should make a visit to Grand Central Market. I can't believe it's taken me this long to do so.

317 S Broadway LA 90013, 7 days a week 9-6. Tacos are $2 each