Out of all the taco trucks in Highland Park the one that is recomended to me most often would have to be La Estrella. The al pastor is talked about in glowing terms and La Estrella's legend reaches farther than the boundaries of this east side community.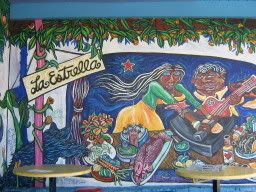 There are three La Estrella locations in highland park. I went to the taco hut at Figueroa and ave 61 first. This location is open 24 hours and besides your standard mexican fare also serves ceviche and seafood cocktails. Having been to this hut once before and enjoyed the carne asada I was curious to try the al pastor after so many recomendations.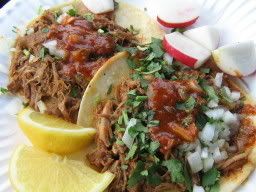 The al pastor was shredded with soft carmalized onions. The texture of the pork reminded me more of carnitas than al pastor but it tasted great so I wasn't too bothered.The sauteed pork was soft and tender with a rustic salsa roja with some spice.The roja had a little kick to it but i'm so used to the hot stuff that I don't even reach for my lime jarritos anymore unless it's some homer simpson hot pepper shit.
After finishing my tacos I drove to the La Estrella taco truck at York and Ave 54 to compare the two. I found a blue truck parked on a lot with a big sign and tables and chairs.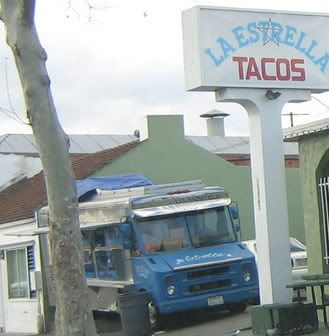 I ordered the al pastor again and was pleased to find out the quality measured up with the tacos at the Figueroa location. It was hard to tell the difference but the pork had a stronger flavor. The shredded texture of the pork and salsa roja were the same but there were more charred bits of pork at the truck which made the taco better.
So the verdict is that La Estrella makes a great pork taco. I'll be back to try the asada and to also try some of the other trucks I saw in the area.
Highland Park is the taco capitol of Los Angeles and this taco reporter is just getting started. Only after I sample every taco truck in this eastside city will I be able to call myself a taco conquistador.

La Estrella is at 6310 N Figueroa. La Estrella taco truck is at York and Ave 54. tacos $1 each

Rate La Estrella Taco Truck- Highland Park