I'd like to thank Simon at
Low End Theory
for his blog .I've referenced his blog for westside taco trucks and it has been an invaluable resource. It's how I found the taco truck at Palms market on motor ave as well as several other taco destinations.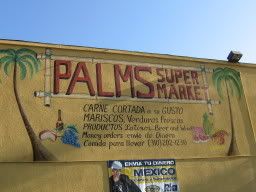 Palms market is a great neighborhood market with a fresh produce section and a carniceria. They also have a taco truck they pull out on the weekday afternoons and weekends called El Sembrador.
Living on the westside I'm always looking for a local carniceria and produce market I can buy my tomatillos, chiles and carnes. You can go to your local Vons to pick up these items but chances are you'll pay twice as much. Not only will you pay twice as much but if you pay with your vons card your purchases are being tracked by big brother. Unless you have your own Vons card (I use my bro's)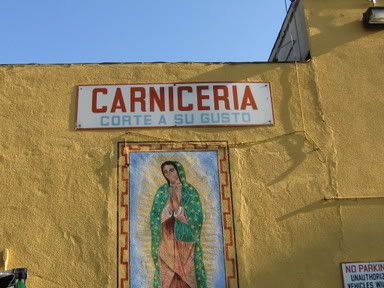 So after buying some carnes,chiles and tomatillos I walked out to the parking lot where the taco truck is parked and handed the lady my ticket. Ticket you say? Yeah I'm pretty cool...I asked the cashier about the taco truck when I was paying for my items and she said that I could pay her for the tacos. I didn't really know what I wanted so I thought to myself for a moment then said I'd like two al pastor and one asada. She looked me over for a few seconds then wrote the number three on a piece of paper "give this to the truck mijo" I felt like a dork for breaking it down to what I wanted instead of just saying how many I wanted.
So I walked up to the truck and handed the lady my ticket with the #3 on it but instead of saying two al pastor and one asada I flipped it around to two asada and one al pastor. She paused for a moment and for a second I thought she might pick up a walkie talkie and say "this gringo is playing games" but she smiled and started to prepare my tacos.
When my tacos came the first thing I noticed was the lettuce. I'm not a fan of lettuce on soft tacos because it gives the impression that there is something to hide. I usually stand pretty firm to the idea that soft tacos should have onions, cillantro, salsa to compliment the meat and tortillas. If a guacamole salsa makes an appearance for it to make the taco better it can't overwhelm the meat. But lettuce? Lettuce is a hard sell..I dont see any beneficial reason to add it to a soft taco.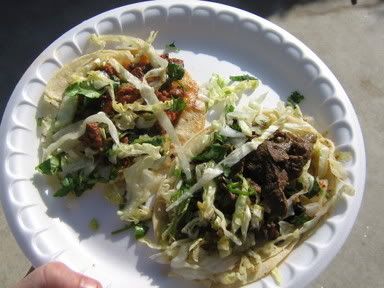 The asada was charred with some crunchy bits and combined with the subtle salsa roja it was enjoyable. The al pastor on the other hand wasn't passable. Too many gummy bits of pork and an overall lack of al pastor flavor left me wanting to just toss this taco in the bin.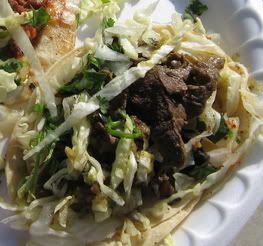 Overall I'm glad to have another mercado to shop for my tomatillos and chiles on the weekend. There are a couple other markets to shop at but the taco truck in the parking lot is the tie-breaker.

El Sembrador/Palms Market 3568 Motor Ave. tacos $1 each