Over the weekend I was in Silverlake and had a chance to check out Siete Mares on Sunset blvd. It's on the sunset junction, probably the coolest part of LA in the history of the city(just ask someone who lives there, they'll tell you they are cooler than you).
I dont remember what I ordered exactly because I may have had one too many cold ones in me at the time but I did wake up the next morning with pictures. Sometimes I wonder what would happen if I lost my camera and what the person who found it would think. They'd probably think "holy crap this guy is obsessed with tacos" or maybe they would think "taking pictures of tacos? why didn't I think of that?"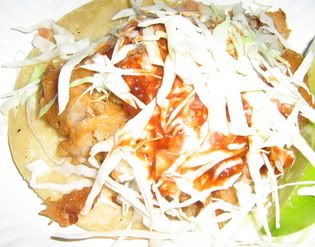 Siete Mares is an interesting establishment. They have a restaurant as well as a taco stand and presumably they serve the same kind of food at both. I assume the menu inside the restaurant to be a little more extensive and also serve cocktails but I could be wrong. I've only been to the outdoor hut.
I remember the fish taco being absolute heaven. Crisp fish on top of soft corn tortillas and a special red sauce as well as a light cream sauce topped with cabbage. It was enormous and for two bucks each quite the deal. Deliciouso!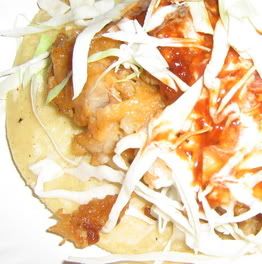 I need to get back there asap to try the shrimp taco and some more fish tacos.
The rating below may or may not be affected by the amount of adult beverages in this taco reporter at the time.

Siete Mares is at 3131 W. Sunset Blvd. Fish tacos $2