I've been wanting to try cabeza again. I've only had it once before and it was gamey,fatty and totally disgusting. I've been getting some recomendations from readers that I have to give it another try(and lengua too) so I went to Mario's on Overland Ave in West LA to try the famed marinated cabeza.
Mario's is a taco cart that at one time was parked at the car wash next to the Mcdonalds at Overland and Venice. They've moved about 100 yards north and now park in front of what I think is a psychic shop. I would have asked the psychic my future but I already knew my future would be eating tacos.
Aside from tacos Mario's serves tortas, burritos and sopes. They also serve breakfast and chilaquiles.
I ordered two asada tacos and one cabeza. I usually order my tacos in spanish but I feel like an ass sometimes when the person behind the counter answers me back in english. It's like saying "hey I know you're a gringo you dont have to pretend with me"
I know I'm a gringo too but I still like to order my tacos in spanish. Sometimes the dude in the truck will answer back with some crazy fast espanol and I just say "si, con todo...para aqui" I mean..what else can he be asking me? my opinion on global warming?
So my tacos came pretty quick and I tackled the asada first. I had a lime jarritos handy in case the salsa roja was kickin but it wasn't. The asada was good tho, not great. The beef was finely cut and no fatty bits were present.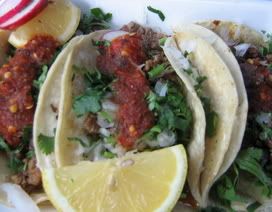 So I stared at my cabeza taco and fingered some of the cilantro away to get a closer look at the beef. It looked nothing like the previous cabeza I had eatin and was very soft with a beefy aroma. I squirted some lemon on the taco and dug in. It was a strange feeling at first because the beef was so unlike any other I've had in a taco. It was so soft and tender and reminded me of a roast that simmers all day and eventually breaks apart by itself. I can see this kind of meat being something that is an aquired taste but I really enjoyed it.
My only regret is that my camera ran out of batteries after I snapped a shot of my tacos. I wanted to get a close up of the cabeza.
But I think I'll be heading back to Mario's anyway. I'll try cabeza again and maybe even some lengua. Maybe I'll even find that psychic and ask her when I'm going to find the perfect taco.(It would be a trick question cuz I've already found the perfect taco at
El Parian
)

Mario's parks on Overland Blvd halfway been venice and palms. Tacos are $1.25 each