I first read about El Pecas #2 on the
LA Chowhound forum
. It got rave reviews and since I'm a taco reporter I decided to take a closer look.
Parked at the southwest corner of La Brea and Olympic El Pecas #2 serves up tacos and burritos with a smile. Well maybe not a smile, more like a half smile. Not only do they serve of tacos but they also have a TV mounted on a wall inside the truck that plays your favorite mexican soap operas and talk shows. You can't hear the audio but you can stare at the TV and pretend you understand what is going on while you wait for your tacos.
I ordered my usual of asada and al pastor. "Dos tacos de asada y dos de al pastor con todo por favor" The al pastor is cooked on a slow roasting spit which is a rarity for taco trucks but always a welcomed surprise.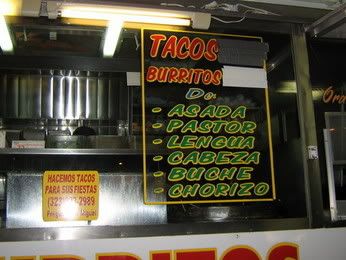 My tacos came with onions, cilantro and a subtle yet spicy salsa roja. The al pastor was delicious and saucy with carmalized onions and spiced cuts of pork. The asada was equally pleasing with tender fine cuts of beef on top of perfectly oiled corn tortillas.
I'm not sure how long El Pecas has been parking at this location but I hope they start to get a following. These guys are on to something and really know how to satisfy a taco craving. I can see this being a late night before or after club hangout on the weekends with the ample parking space and it's location.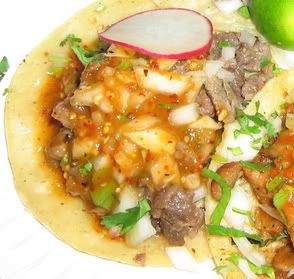 Delicious delicious tacos and I hope El Pecas #2 gets rewarded with crowds of patrons.

El Pecas #2 is at La Brea and Olympic nightly after 7pm. tacos are $1 each