At the corner of Beverly and Normandie in the heart of Los Angeles is El Jalapeno,a mexican food stand that serves tacos, tortas, and burritos. Hidden under a massive signpost and often behind a crowd of people waiting at the bus stop this taco stand is easy to miss.
The first thing I noticed when I approached the window was a hunk of glazed pork twisting on a metal rotisserie. My eyes widened and my stomach grumbled in anticipation for what was to come. Having al pastor from a rotisserie is night and day when compared with al pastor that is prepared any other way. The slow roasted and marinated meat is unlike any other.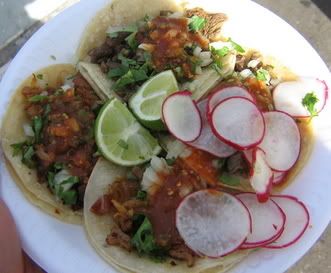 So I ordered asada and al pastor tacos and watched as the cook cut slices of al pastor from the spit on to the cylinder grill and then on to corn tortillas. My tacos were garnished with cilantro and onion with a salsa roja.
The asada was passable but nothing special.The al pastor however was excellent. The pork was glazed,soft and sweet. The pork and carmalized onions combined with a tasty salsa roja made for a great taco. The salsa didn't have much spice to it but I didn't mind. I didn't really need anything to get in the way of the sweet cuts of pork.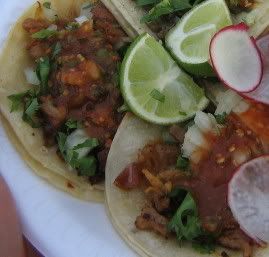 One may think that eating tacos as much as I do that there may be a sense of deja vu. I thought I would encounter this problem but I havn't. A taco can be interpreted in so many ways that I never get bored eating them. The al pastor at El Jalepeno was unique because of it's sweet aftertaste and soft texture.
I wouldn't go out of your way and fight the harsh city traffic to get to El Jalapeno, but if you are ever in the area and in the mood for tacos the al pastor will not disappoint.
El Jalepeno is at the corner of Beverly and Normandie. Tacos are $1 each