Got a tip via email to check out Carnitas Michoacan in Lincoln Heights. Having been to
carnitas michoacan #2
in Van Nuys I wasn't sure if the two were related but was interested in finding out.
Lincoln Heights is a taco haven and checking my little black taco book I noticed four other destinations in the area on my to do list. Luck would have it that Carnitas Michoacan was the first taqueria to come into sight when I turned on to Broadway ave.
I ordered asada and al pastor. Even though carnitas seemed like an obvious choice I couldn't resist sampling some of the pork from the al pastor spit. It's one of my rules of thumb when ordering tacos. If there's an al pastor spit I skip the carnitas and order al pastor and vice versa if there isn't.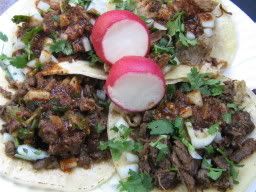 My tacos came with onions, cilantro and a smokey salsa negra. The first thing I realized was that these tacos were much better than the tacos at carnitas michoacan #2. The salsa was just as advertised and I couldn't get enough of it. I actually could have drank the salsa by itself it was that good.A great salsa can really make or break a taco but the meats with these tacos were so tender and juicy that the salsa just added to the overall taste explosion. The meats were prepared wonderfully, the asada charred and tasty and the al pastor tender and soaked in spices and carmalized onions.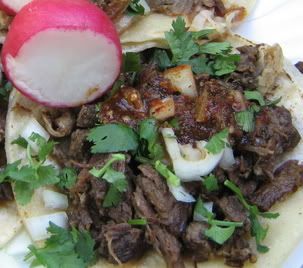 I'm running out of ways to describe great tacos and I feel like I often repeat myself but these tacos were so good I wanted to get up and do the peanut butter
jelly time dance
They are open 24 hours so you can get your taco fix at any hour of the night. I work downtown so it's a convenient taco run for me during my lunch hour and I will definetly be returning to carnitas michoacan.

Carnitas Michoacan is at 817 N Broadway, Lincoln Heights. Tacos are $1.15 each