Since I've started this taco journey I've received alot of tips for where I can find the best taco trucks and taquerias our fine city has to offer. I'm happy to say that not one of these tips has disappointed and I've become a more experienced taco eater in the process.
But since the begginning of this hunt I've had the
KCAL 9 on the town
top 9 taco trucks in southern california list on my mind. It claims to list the best taco trucks in southern california but only includes Los Angeles taco trucks. Orange county and San diego not part of southern california?
The 9 on the town list should have been called best taco trucks in Los angeles because they obviously didn't travel south of LAX for this research. Or did they do any research at all? That's what I am going to found out my friends. As your humble taco correspondent I will travel to each of these destinations and sample their taco fare and unlike 9 on the town I cannot be bribed. I'm not suggesting that KCAL would ever accept bribes but check out
their best tacos of LA list
and you tell me that someone at real food daily isn't on the payroll.
So I set off to check out the #9 taco truck on the list, Carmens at Vermont and 8th st in Los Angeles. I arrived with no expectations and treated it like any other taco truck I may come across. Well that's what I told myself but I did have high expectations..it's the ninth best truck in all of southern california!
The first thing I noticed was the amount of salsas set along a counter mounted on the truck. A guacamole salsa, a salsa verde, a salsa roja, onions and cilantro as well as jalapenos and slices carrots. It was quite an impressive spread.There were even small cups to take salsa to go.
So I ordered asada and al pastor. They also had cabeza, lengua, pollo,and buche on the menu as well as tortas, burritos and cemitas. Mexican cokes and pepsi's and several flavors of jarritos were also available. My drink of choice is usually a lime jarritos.
I poured some of the salsa roja on my tacos and dug into the al pastor first. The salsa roja was great but I got a gob full of flabby pork. At first I thought I was chewing on a bit of pineapple but as the pork fat begin to stick to my teeth and the gummy consistency began to make my stomach churn I realized I was smack dab in the middle of eating something really disgusting. Emeril Legasse would have loved it but I am of the mind that pork fat does not rule,especially on a taco.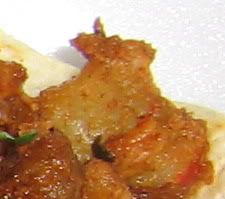 pork fat doesn't rule
Up next was the asada and again the first bite filled my mouth with the delicious salsa roja. Wow that salsa was good but I can't say the same for the tacos. The asada was passable but too chewy and didn't have any of the qualities that make for great carne asada. The only thing that saved the taco was the salsa roja which was really flavorful. I would love to get my hands on that recipe. The spice was subtle and I didn't have to reach for my lime jarritos but sometimes I prefer a tasty salsa over a spicy kicked up roja.
So what's going on at KCAL 9? who's in charge over there? is
John Ireland
Bob's Bigboy? can they be taken seriously in the taco community?
At first I felt bad about giving a negative review to a taco truck as it seems to be run by hard working folks. But this is a taco hunt and my opinions are just that, my opinions.However if they didn't want a bad review then I shouldn't have been served a pork fat taco. Maybe I should have announced my arrival "I am Bandini the taco hunter of Los Angeles and I expect your finest taco fare! if I recieve a pork fat taco I wont hesitate to announce this to the taco community!"

Carmens is at the corner of 8th and Vermont. tacos are $1 each